By Shaun Thompson 
On May 13  2012 at 4:52pm, Manchester United looked destined to pick up their 20th league title. Just three minutes later and Manchester City were crowned champions of England. A devastating way to lose a Premier League title, which has forced Sir Alex Ferguson to make interesting summer moves for the already up and running new season.
The new signings of Nick Powell, Angelo Henriquez, Alexander Buttner, but more interestingly, Shinji Kagawa and Robin van Persie have brought with them an almost instant change of manner in the manager's thinking and could almost push the current crop into the modern era, finally.
Last season, Manchester United typically lined up in a 4-4-2 or 4-4-1-1 formation, with two wide players and two dominating midfielders. In comparison, rivals City would play with a 4-2-2-2 formation with their 'wide players' playing almost centrally in floating, creating roles. It reaped its rewards from media outlets, who some even branded the Manchester City side as good as Barcelona in terms of football quality. It's overdone yes but it is a statement that comes with a sense of belief in honesty.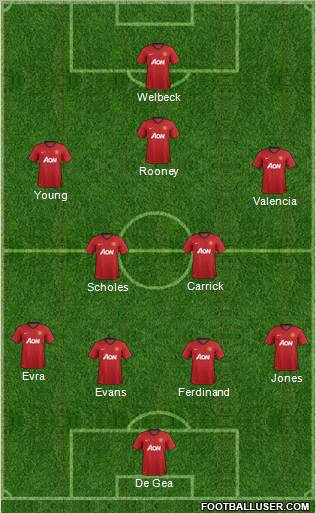 Since the start of the season, we've almost, but not quite, seen the change in formation that I, in particular, wanted at the club. A midfield three has been implemented in some games and has seen a neglectance of 'wingers' come about, in favour of using three rotating forwards, similar to the 2007/08 season.
Which brings me to the point of the dying breed of old fashioned wingers in the game today. I don't believe this is by lack of players, more the choice of managers. In fact last season, Montpellier, Manchester City, Real Madrid, Borrusia Dortmund and Juventus, who were all champions of their respective countries, played fluid attacking systems. No sight of wingers in the regular starting line-ups as they favoured forwards or creative 'attacking midfielders'  in wide areas.
Inverted wingers have also become a rare sight in modern football, but there does still seem to be a few around. Ribery and Robben are a prime example of this, but again, they finished last season trophyless as fluid Dortmund robbed them of two major honours in Germany.
What's important now is that Sir Alex Ferguson has the belief in a change of system rather than reverting back to his old ways, which have become unstuck at times. This is not a stint against the greatest manager that ever existed, more about how I feel the team must operate for the present and future.
As the wiser minds of Ashley Young and Antonio Valencia will play to the ways of years ago, this is becoming more and more predictable.
Controversially, I will say that the likes of Antonio Valencia and Ashley Young should see less gametime using this system. Not because they aren't good enough, just that they aren't as appropriate or effective in 4-3-1-2, 4-3-2-1 or 4-2-2-2 systems. Wide players at Manchester United have always been acknowledged for beating their man and crossing the ball but this is become incredibly repetitive and forces us to rely on these wingers to perform at their absolute best every weekend.
None more so than Antonio Valencia who claimed a clean sweep of awards for last seasons performances. However, if they don't perform, Manchester United become unstuck, which has happened regularly since the loss of Cristiano Ronaldo and Carlos Tevez, who were part of a deadly front three with Wayne Rooney back in 2009.
This is also an opportunity to use the likes of Tom Cleverley and Anderson to our advantage in a more effective way as they could become pivotal this season. Darren Fletcher has also played an important part in those two performing as they have this season. He provides protection, energy and a composed brain behind the vibrant duo.
As a rotating front three looks increasingly likely to be used, they will be operating in a much more narrow style than before. This gives Tom Cleverley and Anderson more opportunity of finding these players in 'pockets' rather than the safer choice of playing a central midfield pairing of Michael Carrick and Paul Scholes.
Now that Shinji Kagawa has been signed, he has the ability to play wide but as a free roaming wide player, which he undertook in the second half against Tottenham Hotspur last weekend and flourished.
The inclusion of Wayne Rooney forced this change and allowed him to get more involved as he roamed across the attacking midfield positions. This was a prime example of how effective players like Kagawa and Rooney can be if they are handed free roaming positions in the well-known 'pockets' and with the slow start to the season for all wide players at the club this season, this could be the perfect time to implement what every other successful side has been using over the last couple of seasons.
So far this season, I believe that the most enjoyable Manchester United games to watch have been a Capital One Cup tie against Newcastle at Old Trafford and Tuesday's Champions League trip to Cluj. Again, proving my point of preference to see the players I've highlighted throughout this piece.
I'll continue to maintain as of now that personnel, with the signings this summer, aren't the problem at the club. Unfortunately, stubborn tactics and a comfort zone taken by Sir Alex could actually be holding us back from becoming the best team in Europe again. Below is a system in which I would like to see on a regular basis this season.