After Chris Smalling got himself sent off in the derby and Marcos Rojo suffered an unfortunate shoulder injury which reportedly could see him sidelined for some time, Manchester United find themselves in an all too familiar defensive crisis that has become an annual ritual.
Our current defensive injury list includes Jones, Evans, Rojo and Rafael, while Smalling's suspension means there isn't one single senior centre-back available.
Even Arsenal are looking at United's current injury list with a pitiful gaze and that's saying something.
As it stands, Louis van Gaal is staring down the barrel of United's most makeshift defence in years. In the latter stages of the derby, United's back four was Valencia, Carrick, McNair and Shaw – two midfielders and two defenders who have less eight senior appearances for United between them.
Here is who is currently available for selection: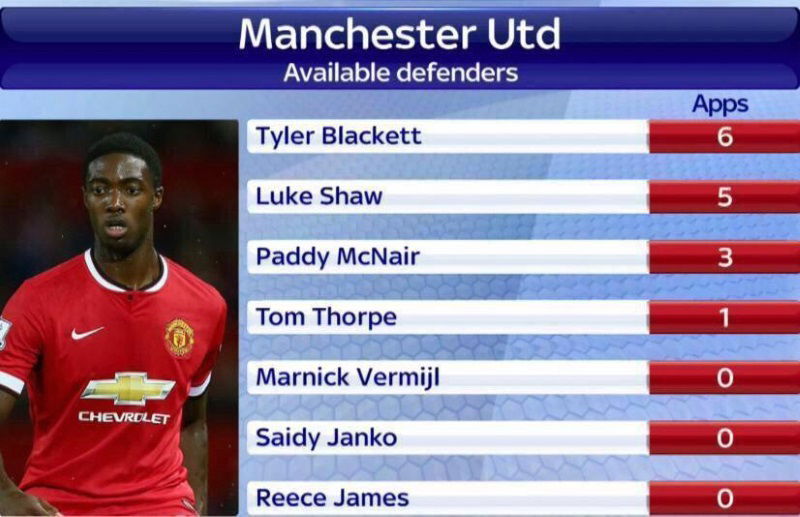 Blackett is United's most senior available defender and only made his debut for the first-team this season under Van Gaal. This is the worst condition United's defence has been in for some time and the most frustrating part of it is that it was all too predictable.
Rio Ferdinand and Nemanja Vidic leaving the club was offset by Rojo's arrival which was inadequate to begin with but the fact United's three most senior centre-backs Jones, Smalling and Evans are injury prone meant a defensive crisis was inevitable this season. Few expected it to be quite this bad but football is very good at throwing the unexpected at you.
That being said, everybody saw this injury crisis coming at some point this year. United's substantial investment in bolstering the attack wasn't matched in defence and Van Gaal failed to create the balanced squad he wanted.
Why didn't United bring in the world class defensive reinforcements they needed? Van Gaal is a smart man and wouldn't have overlooked that area which either suggests his targets rejected United's approaches or he didn't feel the right players were available. Either way, United are suffering the consequences.
There are two months until the January transfer window opens and United fans are hopeful that somebody can be brought in to change things but as is the case with January, top players are hard to come by.
The unfortunate reality is that United might find themselves stuck in this situation until next summer but it could mean United face an uphill battle to secure the fourth spot which is so crucial this season after last summer's investment.
Image: Twitter/manutd