An insight into the impact the disaster had on Bobby Charlton gave perspective to how the team coped and adapted. An insight into the story of Duncan Edwards involves more of the community. In this respect, Duncan represented a great bond between the club and the community. He was the player, above all else, that signalled the end of the Busby babes upon his death on 21 February 1958 or as Jeff Connor put it, 'if he died [Duncan Edwards] so did Manchester United.
Duncan came from humble beginnings. In an interesting anecdote Jim White tells us how, as a signing on gift, his parents were given a washing machine. His working class background helped the player/fan relationship to develop to levels unseen in the modern day footballing game. Fans felt like Duncan, and the rest of the Babes, were approachable. Jeff White emphasises how pay during the season was only £20 a week, which wasn't that much more than the average working class earnings. The lives of the players were more in touch with the supporters.  Tom Clare remembers how Duncan used to travel by a Rayleigh bicycle to the ground and mix amongst the people. He didn't distance himself from the fans.
As Matt Busby once said, 'if ever there was a player who was a one-man team, that man was Duncan Edwards'. Duncan was a natural footballer who was able to kick a ball confidently with both feet and use his head. He possessed an unrivalled engine of energy. Edwards left an ineradicable memory to all those who watched him play football. Terry Venables, ex-England manager spoke publicly about Duncan following United's last First Division match with Arsenal which ended in a 5-4 thriller. A fitting last match for the Busby Babes in the First Division:
"There were nine goals in a fantastic match, but Duncan's, and his overall performance, are all I really remember. Afterwards, I just couldn't get it into my head how good United were."
It was Duncan's ability to leave these memories with those who watched him which helped create the legacy around the short career of such a talented individual. Tom Clare, author of Forever a Babe: Growing up with Manchester United, kindly answered some questions for me. Openly a massive fan of Duncan Edwards, I felt his insight would give a much more accurate rendition of community sentiment towards Duncan Edwards than most secondary books could. At the time, he was in Manchester and lived through the grief. Below is an extract from the piece he so kindly wrote in response to my questions:
"For 14 days after the accident, fans listened, and watched, for the daily communiqués coming out of Munich regarding Duncan's condition.  It was a yo-yo type of experience.  One day the bulletins would say he was improving, then there would be a set-back.  Then he would be improving, then another set-back.  Everybody, not only in Manchester was pulling for this Colossus of a boy to pull through.  Sadly, in the early hours of February 21st 1958, he slipped away from this life and out of his suffering.   When the news broke in Manchester early that morning, another huge pall of sadness enveloped the city.  Again, people wept openly for this gentle giant.  The players and management back at Old Trafford were absolutely devastated again.  Jimmy Murphy and Bobby Charlton took it particularly hard as they had been so close to him.  The sense of loss deepened measurably – Duncan, more than anybody had been the symbol of indestructible youth."
Duncan's domination of the Manchester Evening News was down to his status. Headlines varied from 'Edwards: Grave' to 'Grave – but slight improvement to 'Edwards worse – Alarm', all within the space of 4 days. However, in an interesting point, articles already began to appear on how 'United were to buy more men', on the same front page bearing the news of Edwards life saving operation. Grief was something that varied between club and its fans, as the club had to represent the vanguard for moving on post-Munich and needed to think about the immediate future, despite it possibly coming across as disrespectful.
The grief amongst fans was worsened by the lack of reliable knowledge the inhabitants of Manchester gained from the newspapers, as they were the main outlet for public affairs. It was not until the 1960s television revolution that more outlets appeared as by the end of the decade, 80% of homes had personal televisions.Duncan was the 'symbol of indestructible youth', the battering ram of United that powered it through the First Division and Europe. His death impacted deep into the heart of Mancunians but not just amongst the fans mitten by his youthful enthusiasm. This coincided with a growth in national warmth toward Duncan Edwards as England prepared for the World Cup of 1958. These sentiments were no more widespread and potent than in his home town of Dudley.
Henry Rose's funeral was the highest attended public funeral outside of the Manchester United players with 4000 but it was rather minimal in comparison to Duncan Edwards'. According to the 1961 census, Dudley had a population of 62,965. The funeral of Duncan Edwards was attended by 50,000 people. They lined the streets of Dudley town and solemn, uniformed policemen saluted as the cortege drove slowly past. In a small village where 80% of the population attends the same funeral, the feeling of grief was escalated far higher. The inhabitants of Dudley felt like they had communally lost a son. Even today, the town of Dudley is embedded with Duncan Edwards memorabilia. There is a pub named after him by the Priory estate, a statue in the centre of town and his grave has become a place of pilgrimage for football fans'. In 2008, the town's Southern By-Pass was renamed 'Duncan Edwards Way' in his memory.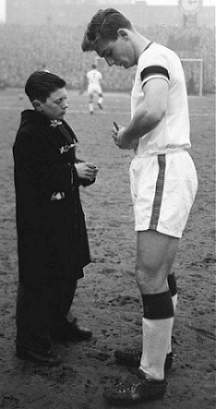 The Mayor of Dudley, Councillor Stanmore, also opened up an exhibition in honour of Edwards on the 50th anniversary of Duncan's death in February 2008 that gave a place for the public to visit. These memorials not only commemorate Duncan Edwards as a football player but him as a man of Dudley. His image represented the combination of decency and pure talent that allowed him to be the hero of the people. However, if one is to accept the sceptical views of Jeff Connor, not every player on the plane that crashed in Munich felt the hero treatment that Duncan Edwards still is receiving.
Part 8 will explain why sympathy has not always been a universal phenomenon with the Munich Disaster.