England manager Roy Hodgson believes Gary Neville's appointment as Valencia coach will only benefit the national team.
Manchester United legend Neville, who has been working as Hodgson's assistant with England, will occupy the hot seat at Valencia until the end of the campaign.
Neville will combine the roles with Valencia and England ahead of the European Championships next summer. Hodgson believes the experience will give Neville an "extra string to his bow".
"I'm delighted that Gary has decided to take this excellent opportunity. It's the right moment in time for him and I'm 100% behind his decision to join Valencia as the new head coach," Hodgson said.
"As far as I'm concerned, this will be an extra string to his bow and the experience he will gain working in the Spanish league can only be beneficial to our work together with the England team. Gary's commitment to The FA's preparations for Euro 2016 will not be in any way affected by the fact that he will be coaching abroad during the next five months.
"As someone who has spent a large part of my coaching career working abroad, I salute his decision and hope he gains as much from his time in Spain as I have done from the various countries which I have worked.
"Like the rest of the England coaching staff, Gary will be fully committed to preparing for the Euros in France and our friendly matches which begin in March against Germany and Holland. I wish him and his brother Phil the very best of luck as they prepare for their first match versus Lyon in the Champions League."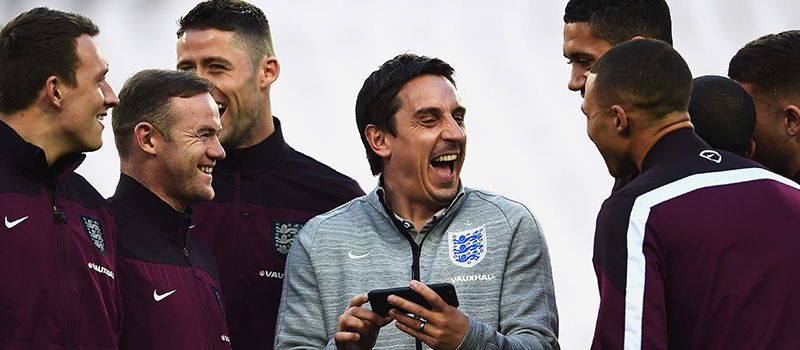 Neville is expected to work alongside younger brother Phil, who had been working as assistant under interim boss Voro following Nuno Espirito Santo's departure.
It is a surprise move for Neville and one that Man United fans will watch with interest. Neville has garnered a number of plaudits for his tactical insight while working as a pundit for Sky Sports and it will be fascinating to see how that translates to management. Perhaps he will be in the running to be the next manager of United when Louis van Gaal decides to leave Old Trafford.