It was fitting that the goal scored to bring up Wayne Rooney's 250th Manchester United goal wasn't a penalty or a simple tap-in.
Instead, the record-breaking goal was a superbly struck free-kick deep into injury-time in the second half to earn United a point against Stoke. Goal number 250 will come as an enormous relief to Rooney who has had an indifferent season so far and who has also had to accept a downgrading of his squad status under Mourinho.
The United and England captain has scored just five goals this season and his influence on the pitch appears to be waning but against Stoke he proved to his doubters and detractors that he can still produce the goods when his team are struggling. That goal at Stoke was like winning the jackpot at All Slots online casino – it truly was the perfect way for him to become United's record goalscorer having scored his first ever United goal from a free-kick as well against Fenerbahce.
In spite of the criticism levelled at United's No.10 the history books will show, for the time being, that he is England's and Manchester United's record goal scorer but there is more to Rooney than just the goal statistics.
His trophy cabinet contains an enviable nine major trophies (five Premier League titles, one FA Cup, two League Cups and one Champions League), with the former Everton star playing key roles in all of his club's achievements. His attitude on the pitch has also helped him win over the Man United faithful with his youthful fiery temper and passion often helping to bring out the best in him and his teammates.
Statistically speaking, Rooney is a club legend through his individual achievements for the club and the honours he has won as a part of many different squads since his transfer to United back in 2004. Football has a strong tendency to live in the present and to forget, or negate, the past. Like online slots, sometimes it's hard to remember the good times when the present is so weak in comparison.
Rooney's current form is perhaps clouding many people's judgement about whether he is a true club legend but this is a short-sighted opinion that does not deserve much debate. There should be no list attempting to rank the greats of any football club because comparing so many players who have played in a different style and in varying positions on the pitch, is an exercise that will never give a black or white answer.
Looking back through the list of United's top goal scorers alone gives one an impossible task to attempt to place one player at the top of the list of importance.
Sir Bobby Charlton, who remains United's all-time leading goal scorer in the league (199 goals compared to Jack Rowley's 182 or Rooney's 180), was a midfielder who played 758 times for United winning three First Division titles, one FA Cup and one European Cup as well as a World Cup for his country. He is near the top of the majority of United fan's lists as a player who dedicated his playing career, and has dedicated his later years, to serving United.
The name that is mostly forgotten that sits alongside the goal scoring talent of Rooney, Charlton and Denis Law (237 goals in 404 apps.) is that of Jack Rowley. Rowley, usually deployed as a No.9, played for United from 1937 to 1955 (including a seven year break during the Second World War) and scored 211 goals for the Red Devils in 424 appearances. One only has to imagine how many he would have scored in those seven years that were given up for war and where he would sit in the list of legendary United players of those who saw him play.
Dennis Viollet (178 goals in just 294 apps.) and, of course, George Best are other names to mention from football's almost forgotten past. Best, one of United's holy-trinity, had the goal scoring statistics to back-up his magical ability to play football. The Northern-Irishman pulled on the red shirt 474 times and scored 181 goals from his position as a winger.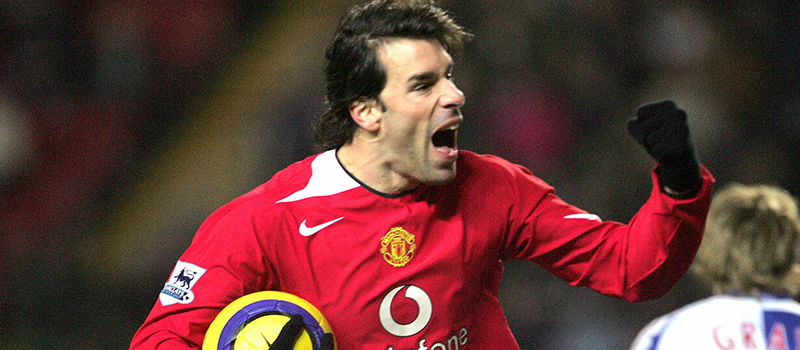 The Dutchman Ruud van Nistelrooy, another notable striker, would have gone on to score far more than the astonishing 150 goals in 219 appearances had he not fallen out with Ferguson and gone to Real Madrid in 2006.
Two final names to mention in this list of goal scoring legends at United who did not reach the heights of the names mentioned above, regarding goals scored, but who remain two of the most exciting and unpredictable players to have played at Old Trafford in recent times are Cristiano Ronaldo and Eric Cantona.
No list of United legends is complete without the enigmatic Frenchman, who lasted only five seasons at United before retiring at the age of 30, or the Portuguese superstar Ronaldo.
Cantona was a part of Ferguson's first-wave of Premier League dominance and he won the hearts of United fans with his charisma, style and flair; while Ronaldo amazed the crowd at Old Trafford with his development from an awkward looking teenager into the incredible athlete that he remains to this day.
Cantona's 82 goals in 185 appearances is a respectable record, much like Ronaldo's noteworthy 118 in 292, but in both cases these two players' personalities as well as their influence in immensely successful periods for United play a large role in their status as club legends in spite of the limited time they spent in Manchester.
Goals are not the only measure of legendary status as a footballer, however, and players such as Bill Foulkes, Nobby Stiles, Bryan Robson, Peter Schmeichel, Paul Scholes, Nemanja Vidic, Rio Ferdinand, Ryan Giggs and perhaps the greatest of them all who was cruelly snatched away in the Munich disaster at such a young age, Duncan Edwards, will all be remembered as club legends not only because of their performances on the pitch but also because their characters encapsulated Manchester United Football Club and captured the hearts of the fans.

#ROONEY250 – Congratulations again to #MUFC's all-time record goalscorer, @WayneRooney! ???? pic.twitter.com/YmSgEVTdBA

— Manchester United (@ManUtd) January 29, 2017
Who is the greatest of them all? The answer to this question is down to personal taste. There are those who dislike Rooney and there are those who love him. His achievements at United (and England) should not be overlooked or diminished. They should be appreciated and applauded.
Sir Bobby Charlton stated that Rooney is a 'true great' and if there is one person's opinion that matters in this area then it is Sir Bobby's. Rooney leads in the goal scoring statistics for both England and United and he has earned the right to stand alongside the likes of Charlton, Law, Robson, Giggs and the many more great players United have had through the club's history who should never be forgotten.