As Michael Carrick turns 36 in July, the Red Thoughts team look to the future and ask, who can replace the man whose teammates call him "Havoc"?
RICK: When Carrick hasn't played we don't always seem to have the composure and control of the midfield that he always brings when he's in the team. Herrera is our next best thing I think, but he still doesn't have that Carrick factor and I wonder how we will adapt when he eventually retires.
FAB: To be honest, I don't believe that Herrera is a Carrick replacement. When they play together, Carrick finds a way to make Herrera and Pogba breathe, something that we have lacked in games where Ander took his role. It seems to me that the nearest thing we have at the moment is Sean Goss. For me, Sean will take Carrick's place eventually.
BETS: I think every player has his own unique set of qualities – I wouldn't look for the next Carrick, I would look for someone with qualities that are compatible with the team. If we at some point get a genuinely world class CB pairing, they might not need so much protection, and we could move to a more attacking formation, as we have done recently in a few games, with just Herrera and Pogba in CM and three behind the striker.


Carrick has been a good servant but for me he doesn't do enough on the pitch to justify the praise he seems to get. He's second to none at reading the game and controlling the tempo, but I want more than that from a DM. I want a better range of passing, more mobility and better tackling than Carrick is capable of.
RICK: I'm not necessarily saying that we look for another Carrick. Just a player with his most important qualities. Carl mentioned Kante recently – but I think his range of passing is poor and he's far from being as good and composed as Carrick. Kante is your ball-getter and interceptor, to then pass it onto the creative players, whereas Carrick is that creative player who controls the tempo.
HEMOR:I certainly don't think Herrera is a Carrick replacement, Herrera is more of a partner to Carrick's replacement.
If Jose and Carrick can groom Fosu Mensah I think he can become the new Carrick, and may be even better because he's stronger, faster, taller and more energetic.
JIM: It would be a different to what Carrick has done but it could work really well – he's almost like a younger Pogba in some ways.
FAB: Until he proves himself against a strong side, I'm not sure I believe in him.
RICK: He's not good enough passing-wise. Plus he doesn't even get games.
JIM: We all know he's good enough to get games though. I'd like him to have some sort of role in the team.
HEMOR: Well, if we want to sign someone, the only person I can think of right now is William Carvalho, fantastic player.
RICK: Yep, Carvalho is definitely a good player. But he strolls through games and doesn't seem like he's making an effort. He also doesn't bust a gut to get back and defend when needed. Then you've got the fee. £40 mill got rejected a couple years ago, so I'm sure that won't be enough to get him now after he just won the Euros with Portugal.


HEMOR: He strolls through games? Well that sounds just like Carrick! Not rushing to defend when needed is a bad thing, though, but I'm certain Jose will get that nonsense out of him.
RICK: Also despite being a very tall person his heading ability when defending and attacking is shocking.
BETS: I think the ship has sailed with Carvalho. He would have been a decent signing a couple of years ago, when he was younger and not so set in his ways, but he's got some bad habits now and like you both say, he's prone to be lazy. You know, I wish I knew what happened between Schneiderlin and Mourinho because he would have been the absolute obvious solution 2 years ago. And Schweinsteiger is still more than capable of playing that role. If you think of them both fit and confident, who in the world would be better in that position than either of them?
RICK: Schneiderlin never impressed me like he should have in a United shirt, even when he did play. I was always disappointed. Whether that was due to the manager restricting him, or the formation, but whenever he played he was either carded or not that great.
When we signed him I expected a lot more from him and I expected him to take over from Carrick, however that never happened.
BETS: You're right, he never performed in a United shirt, but we all know what he's capable of from his Southampton days. As we all know what Schneidy is capable of from his Bayern days!!
FAB: Schneiderlin was amazing in his Southampton days and I did doubt him at first compared to Gundogan but maybe he proved what many doubters have said: Southampton and Manchester United are completely different stages.
BETS: Nobody has mentioned Blind yet, isn't he the obvious Carrick replacement?
FAB: Blind is a good game reader but we've tried a Blind and Herrera partnership and it didn't work, sadly. For me Carrick is irreplaceable, simple as. As I said, the only one that comes close to Carras is Sean Goss, who despite that loss in the mini derby, once again was superb and scored. I simply can't get enough of him.
HEMOR:  Blind looks like a like-for-like replacement for Carrick, but it's been long I've seen him play as a DM, I can't even remember how good he is! I hope Jose will give him a chance at DM this season but I doubt it, even Herrera has more chance of playing there.


The problem with Sean Goss is that he's still inexperienced, so we have to wait for him to mature a bit.
Even though the Blind and Herrera combination wasn't great, like you said, I believe Blind – Herrera – Pogba will work out very well. The more Blind plays as a DM, the more he'll understand his role better. But Jose is someone who likes a DM with steel, so I believe he'll probably look for someone who's more like Makelele than Carrick.
RICK: I do feel that if Blind can follow Carrick and get his positioning right then it may work. The reason Herrera and Blind didn't work under LVG is because he used to bomb forward then get outpaced in the counter. Carrick isn't that fast, but it doesn't show because of his positioning and he doesn't get himself out of position. If Blind could learn to do that then it may work. He hasn't got the height, but neither did Makelele and it didn't affect him. Plus Blind has won headers against the biggest strikers in the league so it is worth a try again.
REX: With Carrick, it's the passing range that we'll miss more than anything. So the better question will be who can do what he does from the defensive midfield position? Because he always seems to come up with an interception or a crucial block in games. It looks like Blind for now, but I'm not too sure about his passing. He's been taking corners and most of them have been duds…hitting the 1st man or not troubling anyone at all.
Herrera has a very good shout, but his height might be an issue when needed to cover the CBs.
The one with the most qualities like Carrick is Paul, but his best position is further forward for obvious reasons.
I think our best bet is to start looking for players with those qualities who can be brought up to do it or are already specialists in that field. But I don't think there's too many in the world.
BETS: What about Schweinsteiger – do we think there's still some miles left on the clock there and could we get a couple more years out of him, to help the post-Carrick transition? I thought he started off shaky against Wigan but was majestic for the rest of the game. I would love to think we could get consistent performances like that, but will he stand up to the demands of the Premier League?
RICK: Yes, there is now a chance for him to get some games, now that Schneiderlin has left and he looks like he's fit. Credit to him. Hopefully he can help us push for those cups and 2nd spot.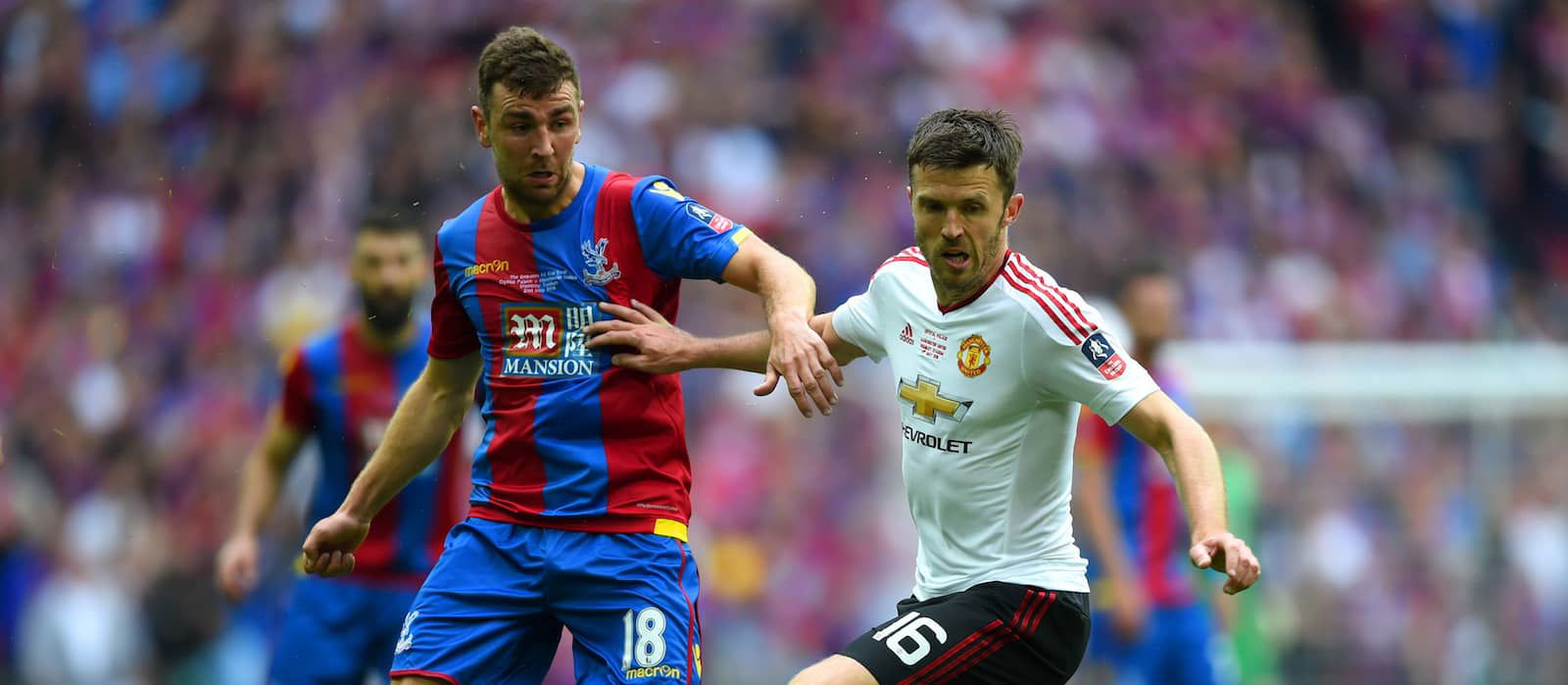 HEMOR: If I'm not wrong, his contract ends next summer, so we have one and a half seasons left in him – if he doesn't leave before then, because I think Jose will sign a DM this summer. That'll mean Schweiny will fall further  behind and I don't think he would want that.
For this season, he'll be a good backup for Carrick.
RICK: I don't see him staying beyond this summer either because Mourinho is going to get reinforcements in and they will be top class and Schweiny won't have a chance to get any game time.
BETS: So you don't think he can have a renaissance? We've seen it before in World Class players … he's only 32; if he could be the player he was, there's no-one better in the world is there?
HEMOR: Jose prefers physical players for the DM position and I think he'll buy one this summer, irrespective of our present options.
RICK: I just don't see it happening. If Mourinho had faith in him to do so he would have had more minutes. What about Pogba?
DAN: Pogba is good on the ball, but he doesn't offer the back four protection.
RICK: True, he's not as disciplined as Carrick nor as experienced, but I'm sure he could learn to be.  He doesn't play this role very often, but I think he's done a great job in some recent games. We've also had clean sheets as well so he can't be doing too much wrong.
DAN: Oh, you can't knock what the lad can do on the ball, but he does have a habit of going wandering, looking to get involved. I think though with Herrera's energy next to him he gets away with it. Herrera has, for me, been player of the season so far. I don't think he has had a bad game, his energy and passion are great. He is the midfield hard man who looks like a choir boy. But I feel if you were to restrict either Pogba or Herrera it would be a shame. You should let them play their game.  In my opinion, we will never find a direct replacement for Carrick.