OK, after his man-of-the-match performance, I feel safer to finally admit it. I'm a closet Matteo Darmian fan.
Reviled and ridiculed by most supporters over the years, for me, Darmian has never been given a proper chance to prove himself at Manchester United. His talents have been squandered by both Louis Van Gaal and José Mourinho for nearly four years – possibly the best part of the Italian's career.
There are players who respond to tough love and others who need reassurance and an arm around the shoulder when things go wrong. Unfortunately, when things first started to go wrong for Darmian, his coach was Louis Van Gaal, whose motivational methods generally involve exposing his testicles in the dressing room and telling players to show him theirs.
Embed from Getty Images
Most United fans think of Darmian as some sort of also-ran misfit, and forget about the pedigree that he brought to the club. Capped for Italy at every level from Under 17 onwards, he made seven teenage appearances for Milan, debuting for the Rossoneri at centre back at the age of 16. He was instrumental in Torino's promotion to Serie A in 2013 and their subsequent 7thplace finish the following year, making 151 appearances for the Turin side in total. In 2012-13, Darmian made the most tackles across all of Europe's top leagues and in 2013-14 and 2014-15 he was named in the Serie A team of the year. He made his debut in the Italian national team in 2014, playing all three games for the Azzurri in the 2014 World Cup and cementing his place at right back for what seemed like a long future. Darmian won the 2014 Pallonne Azzurro, awarded to the best player of the year in the Italian national side.
Darmian joined Van Gaal's Manchester United and quickly made an impression. The manager claimed Darmian had been man-of-the match in his debut game vs. Spurs in August 2015, and was United's Player of the Month in August 2015.
If we freeze history right there, we have a 25 year old who is the best player in Italy, the nation credited with producing the world's best defenders, who has walked straight into the United side in the unfamiliar surroundings of the Premier League, and won Player of the Month. We have the Milan and Juventus fans howling abuse at their boards for having allowed him to leave Italy. So what went wrong?
20th September 2015: Manchester United are playing Southampton at St Mary's. Van Gaal is not happy with the first half performance, and takes off his new wonder boy Darmian at half time, bringing on Antonio Valencia. "It was a tactical change because Tadic had a lot of space and was very dangerous for us. I wanted to eliminate that with Valencia and he did that very well I think." Ouch.
In the next game against Sunderland, Van Gaal retained Valencia at right back and switched Darmian over to the left. The Italian struggled on his weaker side and you could see some confusion on the player's face and his confidence starting to waver.
Van Gaal then restored Darmian to right back for the next game against Arsenal at the Emirates. United's performance in the first half was a shambles, with Darmian picking up a yellow card and United going in 3-0 down at half time. Again, Darmian was axed at half time and replaced by Valencia.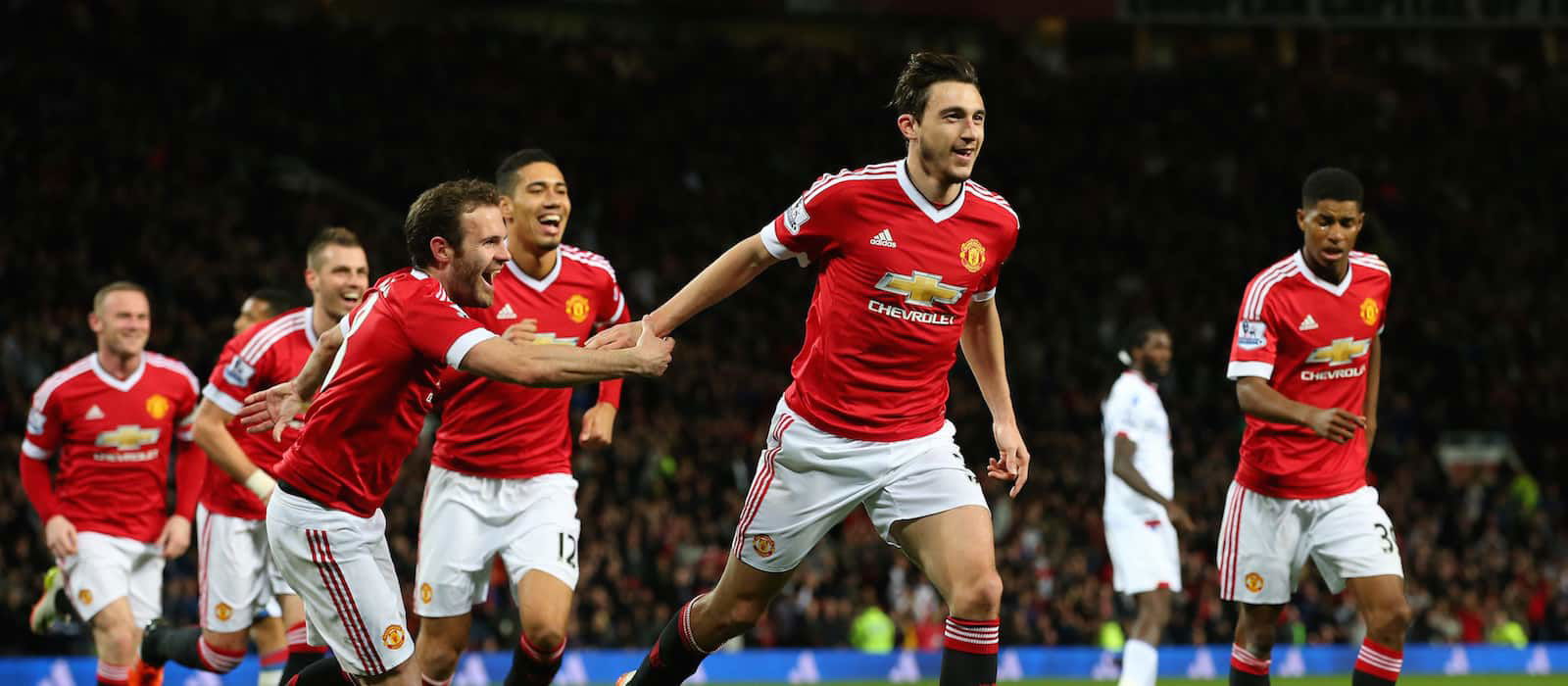 With the Ecuadorian picking up an injury on International break, Darmian was again selected for the next Premier League game against Everton at Goodison, a convincing 3-0 win. But despite having shown signs of recovered confidence, Darmian was then dropped for the following game, and shortly after, due to further injury problems for Valencia, Ashley Young was drafted in to the right back role, and Darmian was suddenly relegated to 3rd choice, which, despite a change in manager, he has arguably been ever since.
Which brings us to the present day. Darmian's surprise selection at Centre Back against Reading – the position in which he started his career at Milan – raised a few eyebrows, but he put in a commanding performance. The Italian was singled out for praise by Olé Gunnar Solskjaer, who said he was "the biggest plus" and that he "hardly put a foot wrong". So, has it all been about confidence all this time? Three and a half years since Van Gaal systematically destroyed Darmian's confidence, could Solskjaer's more cuddly management style bring about an unexpected turnaround in Darmian's Manchester United career?
With Antonio Valencia looking like his best days are behind him, and Diogo Dalot probably not yet ready to play 50 games a season, a resurgent 29 year-old Darmian, playing the way he did in Serie A, could be the most unexpected of unexpected bonuses for the United defence. Finally, instead of converted wingers such as Valencia and Young, United could have an Italian thoroughbred, a true and potentially world class defender, playing in the right back position, and able to cover right across the rest of the back line.
It may be that too much water has gone under the Irwell bridge, and that after such a miserable period at Old Trafford, Darmian will prefer to return to Italy at this stage in his career. If he does, I have no doubt he will prove his class very quickly. But you can't help but think, maybe, just maybe… Another contender for the right back position, Ashley Young, played on the fringes of the first team for several seasons – and was discounted by many fans – before he finally found his mojo. Now, in his thirties, he is enjoying the most successful spell of his career. So is it too much to hope that Darmian can also still flourish, and even become a legend, at Old Trafford?