Manchester United legend Rio Ferdinand had plenty of praise for Donny van de Beek in what was an impressive showing in midfield this evening.
The former Ajax star has had to bide his time in terms of regularly starting for the first team but he made his case to Ole Gunnar Solskjaer once more with a stellar performance.
Van de Beek has largely had to play only as a sub or was only ever handed a start in lowkey matches, perhaps as a way to ease him into the first team.
Fans were baffled by Solskjaer's consistent overlooking of the young Dutchman, particularly when United were in poor form.
Van de Beek had always put in brilliant shifts whenever he could and it's safe to say he can't be ignored forever based on current performances.
Rio Ferdinand: "[Donny] Van de Beek has been a breath of fresh air in midfield" #MUFC [BT]

— mufcmpb (@mufcMPB) November 24, 2020
Playing alongside Fred in a midfield pivot, Van de Beek was tasked with being the more creative of the pair and yet still maintained defensive discipline well.
It's essentially the role Paul Pogba is normally tasked with but is often accused of either losing the ball in key areas or of not doing enough defensively.
Nonetheless, Van de Beek's versatility in midfield will likely serve him well in the long run and fans will be hoping to see him start more often.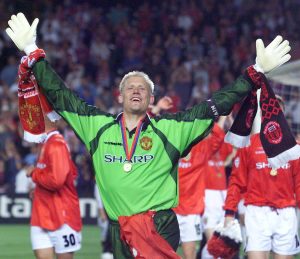 United have had some world class goalkeepers over the years and some entertaining ones too. Take our quiz below to find out how much you know about United's number 1's, past and present.