Manchester United have gone some way to addressing their midfield with the signing of Christian Eriksen.
The Dane will add reliability in possession and a creative spark that has been absent from central midfield since Paul Pogba was last in the position fully fit and on form, roughly two years ago.
While the shopping may not yet be done, with United still waiting on a resolution over their pursuit of Frenkie de Jong, it will be interesting to see which player will be most limited by the new arrival, as Erik ten Hag shuffles his pack.
As argued by The People's Person earlier, Eriksen may possess a wonderfully useful versatility, but it seems more than likely he will be deployed in a central midfield position.
Should United fail to add further midfield reinforcements, that will mean a partnership with either Scott McTominay or Fred, with the other likely to see their game time limited.
So who would be the better partner for Eriksen? And who would be the most likely to lose in a McFred breakup?
The following graphic from Sqwauka's Comparison Matrix may give us some idea.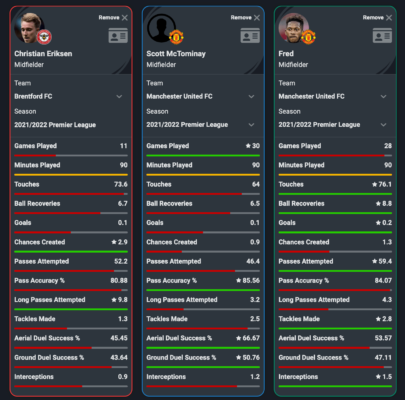 We have included Eriksen's numbers in order to show where he may have specific weaknesses that another midfielder may be better equipped to cover, although with his data only having been captured over 11 games, it is important to take them with a pinch of salt.
Nevertheless, some of his numbers do stand out.
For one thing creating 2.9 chances per game from central midfield is, quite frankly, absurd.
Of all central midfield players in the Premier League last season, only Kevin de Bruyne created more per 90, and it should be noted that the Belgian did have the odd game at number 10, while all of Eriksen's minutes came in a midfield three for Brentford.
His chance creation numbers are married with a respectable 80.88% accuracy, which is all the more impressive when you consider that he plays 9.8 long passes per game, over triple that of McTominay.
His ability to switch play out to the wings and fashion chances will be a huge benefit to the side from midfield, but perhaps he will need a counterbalance to partner him if he is to succeed.
McTominay could provide that in a couple of ways.
As mentioned, he is a comparatively straightforward passer of the ball, which contributes to his 85.56% passing accuracy.
He also possesses height, which no other midfielder at United can boast following the departures of Nemanja Matic and Paul Pogba on free transfers.
His 66.67% aerial duel success rate could prove useful in defending, particularly if Ten Hag continues with his man-oriented pressing style, which can often force opponents into long lofted passes.
For that strategy to work, however, McTominay's reading of the game would need drastic improvement, as he would be required to sit off and shield the defence in a way he has previously failed to do under managers like Ole Gunnar Solskjaer.
McTominay has generally worked better in a box-to-box role, with two performances against Leeds United in particular demonstrating the damage he can do as a deep runner in certain matches.
As a Plan A, the numbers show some serious shortcomings in the Scotsman's game.
His 6.4 ball recoveries per game is surprisingly low – lower even that Eriksen.
While he looks the part of a combative midfielder, his effectiveness in winning the ball is some way behind that of Fred, who makes 8.8 recoveries per game.
If the midfield is set to join in with the aggressive counterpressing, Fred looks to be a shoo-in for a position ahead of McTominay.
Fred's superiority in regaining possession is actually part of a bigger problem for McTominay – an issue of overall involvement.
Attempting only 46.4 passes as a central midfielder in a side that routinely has more of the ball than their opponents does not look good.
And those numbers only go to support what we often witness with the academy graduate – he's generally poor at making himself available.
It's possible that playing further forward at youth level before being fast-tracked to the first team in more defensive midfield role robbed him of the chance to foster the trait, but if McTominay doesn't improve his off-ball movement this season, he will struggle to stay in Ten Hag's team.
The Dutchman favours a possession style that only works on the premise that passing options are always available, and if a player at the heart of your team often has his back to play or has a habit of drifting into his markers' pocket, the disadvantage is clear.
Comparatively, Fred is quite good at making himself available, registering 76.1 touches per game and his overall involvement could at least be relied upon for a safe passing option for Eriksen in possession.
Being more involved in both possession play and in pressing, it is more likely that we see McTominay slip down the pecking order before we do Fred.
McTominay may still have a valuable squad role owing to his aerial ability and counterbalance to United's other midfielders, however there are areas of his game he must improve upon if he is to feature much going forward, particularly if the Red Devils' pursuit of Frenkie de Jong pays off.