Manchester United can once again feel hard done by after Casemiro's sending off against Crystal Palace yesterday.
The United star was given his marching orders with a straight red card for violent conduct after VAR showed him holding Palace player Will Hughes by the neck as a scuffle broke out after Jeffrey Schlupp pushed Antony off the pitch.
Fans were outraged not by the sending off but that Palace's Jordan Ayew was not also sent off after doing the exact same thing to Fred.
The Athletic published still photos showing that the same offence was being committed by the opponent.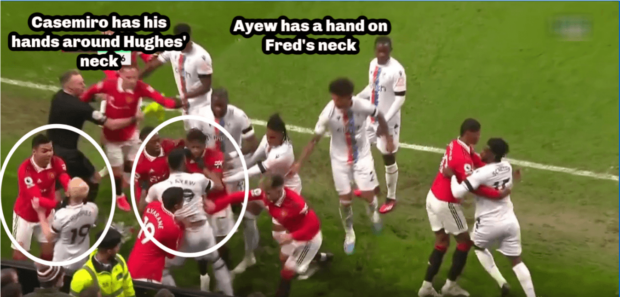 source: The Athletic
They point out that Casemiro's choke hold is two handed, whereas Ayew's is one.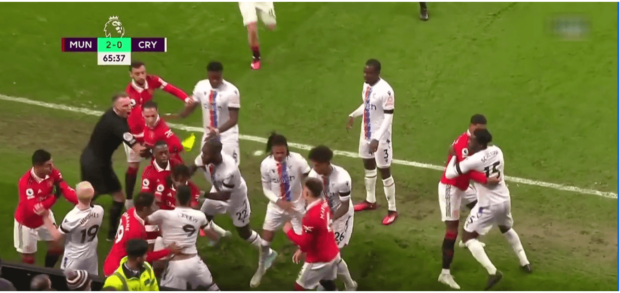 source: The Athletic
But as can be seen in the above photo, Casemiro's is broken very quickly whereas Ayew continues to assault Fred for an extended period of time.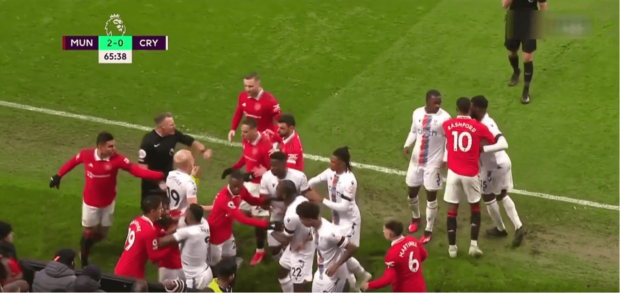 source: The Athletic
Ayew is shown here still attacking Fred some moments later.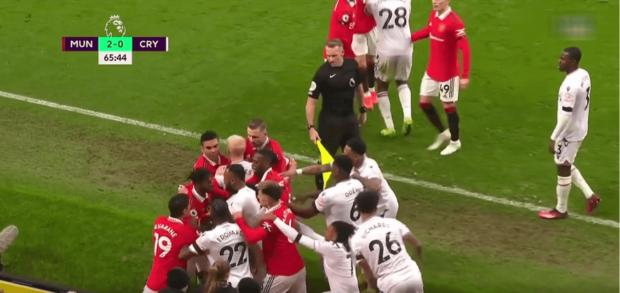 source: The Athletic
There is also the question as to why Schlupp's original offence, a particularly dangerous and vicious shove of Antony to send him crashing off the pitch and into the hoardings, was not also penalized with a red card.
It was clearly violent conduct and was only punished with a yellow, which was also given to Antony for his reaction.
After the match, the Red Devils' manager Erik ten Hag complained that the decision was not wrong, but inconsistent when asked his view on Ayew's actions.
"That was one of the players who did even worse than Casemiro," he said.
"With Casemiro, if you freeze the moment, he's crossing the line there. You have to be consistent as a VAR and last week we missed Christian Eriksen by a bad foul (in the FA Cup against Reading), no VAR interference.
"At Crystal Palace, [Jean-Philippe] Mateta is elbowing (Lisandro) Martinez, he is running with this [a headband to cover a wound] on his eyebrow and (VAR) not interfering."
United could appeal Casemiro's red, who as The Athletic point out is not normally violent and "was never sent off in a league game during almost a decade at Real Madrid."
Fan footage on social media shows the Brazilian laughing off the incident with Hughes seconds after.
Just watch.pic.twitter.com/rLU39j42Ja

— 🏴󠁧󠁢󠁳󠁣󠁴󠁿 (@LJGLA_) February 4, 2023
However, it is unlikely to be overturned. The issue is more that both Ayew and Schlupp should have been similarly punished and the decision could have cost the Red Devils two or even three points in a game they were in complete control of until the incident.