During the Leeds United match yesterday, the Sky commentary team said Harry Maguire had been one of United's best players in the game.
The Peoples Person player ratings also placed Maguire's in the top third of the team's performances.
Meanwhile, Maguire's Sofascore rating was 7.5, making him the third best performer for United on the day behind David de Gea (8.3) and Luke Shaw (8.1).
For perspective, Fred, who was named man of the match by Sky, scored just 7.1.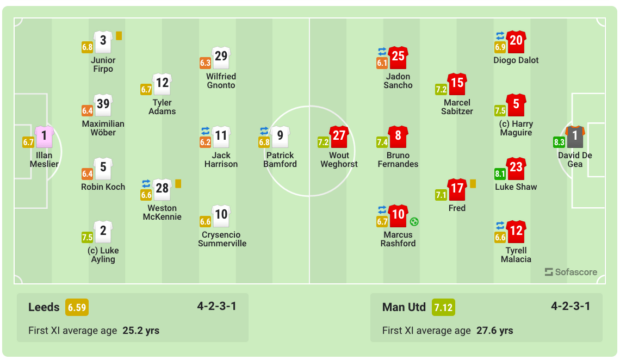 source: sofascore.com
According to Sofascore themselves, "Sofascore ratings are generated by a sophisticated algorithm that translates hundreds of stats into one live number which quantifies a player's performance."
They are objective, but there are elements of the game that they cannot capture.
In terms of Maguire's individual stats, he made no interceptions in the game, but neither was he dribbled past. He won 50% of his ground duels and three out of 5 aerial duels.
Maguire lost possession 21 times, which was the most of any of the United defenders. Typically due to their more attacking nature, the full backs are expected to lose possession more frequently than the centre backs.
But it is the passing stats that are particularly interesting. Harry registered 85% pass accuracy yet only completed 7 out of 17 long balls. 107 of 126 passes were completed.
126 total passes from the captain was more than double the next highest United player. It was in fact 23% of the entire team's passes for the game.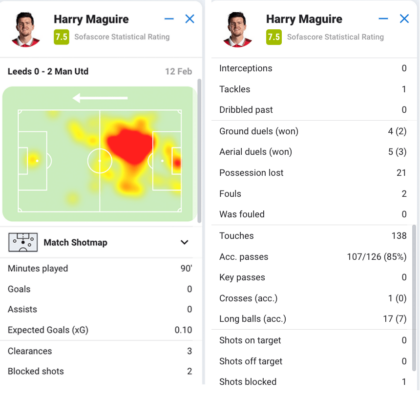 source: sofascore.com
This figure speaks to the frustration Gary Neville expressed during the game when he moaned "stop playing stupid and slow passes across the back!"
The fact is that when Maguire plays, the ball does seem to go through him and it tends to be slow and laboured, short pass after short pass. Then, when he does attempt the longer ball, he is unsuccessful more often than not.
Maguire seems to be given this honour of being the distributor, but this is dull, uninspiring and game-slowing distribution. Maybe that is something that Sofascore's algorithm can't quantify.
Everything suggests that the 30 year old would excel in a slower league such as Serie A but does he move, turn and think quickly enough to cope with the Premier League?
The sort of passing stat seen in the Leeds game is one that would sit fine in the pedantic build-up play that typifies international football, but it is not in keeping with the high-octane speed game that Erik ten Hag is trying to implement at United.