Manchester United's faltering form and poor away record has been attributed to poor finishing by manager Erik ten Hag and defender Luke Shaw this week.
United saw another three points slip away in Brighton on Thursday night, leaving them with only one point from all their away games against the top 10 sides this season.
After the game both Shaw, who conceded the last-minute penalty that cost United a draw, and Ten Hag said that failure to finish chances was the main reason for the Red Devils' loss.
Across the season, finishing has definitely been an issue, with only Marcus Rashford (29) and Bruno Fernandes (11) in double figures.
Stats from footystats.org show that Ten Hag and Shaw are right and that United's finishing, both at home and away, has been profligate this season.
United lie sixth in the Premier League in terms of expected goals (XG), which broadly speaking means that they produce the sixth most chances in the league.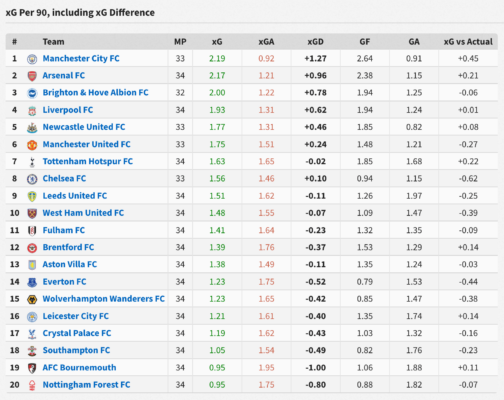 (source: footystats.org)
However, when that XG score is divided by the number of goals actually scored, United plummet to 16th in the league, with only Wolves, West Ham, Everton and Chelsea below them.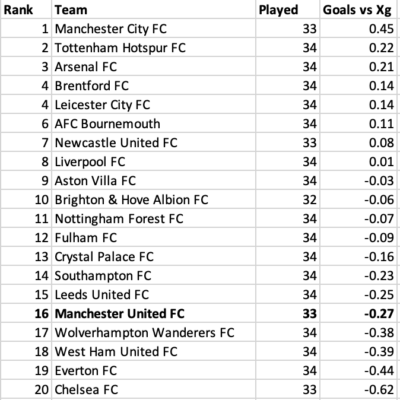 (source: extracted from footystats.com. Note that a positive score means that the team scores more goals than it creates expected goals and a negative score means that it scores less than it should based on expected goals.)
It is not a secret that United need to sign quality forwards this summer who can improve these figures.
While Rashford's season has been phenomenal, his goal conversion rate (how many shots he takes to score a goal) is a modest 25%. (source: BBC).
Jadon Sancho is United's deadliest finisher at 32%. Anthony Martial is second with 30%.
However, Rashford boasts the highest shot accuracy (67%), which suggests he is hitting his shots straight at the goalkeeper on more occasions than not.
By way of contrast, the league's leading goalscorer, Erling Haaland of Manchester City, has converted 38% of his shots – more than Martial – with a shot accuracy of 62% – less than that of Rashford (source: BBC).
Riyad Mahrez (29%), Julian Alvarez (28%) and Phil Foden (33%) also all have better goal conversion rates than any United player, although this comes from that superior XG, so the chances created for them are better.
Interestingly, United's reported top transfer target and the man widely touted to be the solution to United's scoring problem, Harry Kane, has posted the same lukewarm goal conversion rate as Rashford this season (25%), with shots on goal at 57%. (source: BBC).
This does not mean that Martial or Foden, for example, are necessarily better finishers than Kane, as a lot has to do with where players are shooting from (difficult positions or easier ones) and team instructions (for example, shoot on sight). In Kane's case, Spurs' XG is lower than United's, suggesting that he is feeding off scraps to some extent.
That being said, there is no escaping the fact that United's goal conversion rate is relegation-battling standard and simply must improve. A lot of plaudits were sent attacking coach Benni McCarthy's way for Rashford's resurgence this season. McCarthy must also take some responsibility for this shortfall and work with Ten Hag and the players to try to put it right urgently.
---
Follow The Peoples Person on Twitter or Instagram for all the latest news as it happens and to join in the conversation.
---