Erik ten Hag will have a massive transfer budget this summer despite reports to the contrary, according to a respectable Spanish newspaper.
The takeover process for the club is still in full swing, with the current owners, the Glazer family, playing Sir Jim Ratcliffe and Sheikh Jassim bin Hamad al Thani off against each other to try to extract maximum value from the club.
Many reports have claimed that this has thrown United's summer transfer budget into chaos and as a result the football department have been told that their budget is limited to £100 – £150 million.
However, the reputable Spanish outlet El Pais claims that in fact a huge budget of €500 million has been approved by both the Glazers and Sheikh Jassim.
"United are engineering the biggest market assault in football history," El Pais claims.
"Sources that advise the Glazers indicate that whether ownership changes or not, the most valued sports institution in the Anglo-Saxon world is preparing to invest a minimum of €500 million in signing players this summer.
"United have informed the Qataris of the plan. 'United gave us the list of players they wanted to sign,' explained a member of the technical team that accompanies Sheikh Jassim; 'And after an hour of analysis we did not object.'"
The outlet says "Sheikh Jassim's envoys agreed and approved the 500 million euro credit that the Glazers have signed with Bank of America, and which they intend to allocate to hiring in 2023."
The sensational report says that irrespective of whether the club is sold, there is a recognition by both the current owners and the Qataris that "after ten years of hibernation … the team needs to be reinforced with five players for four positions".
A striker will be the top priority, with Harry Kane, Victor Osimhen and Dusan Vlahovic named as the shortlist.
United also intend to sign a midfielder, with Frenkie de Jong, Adrien Rabiot and Alexis Mac Allister named.
The next priority, surprisingly, is a left winger, "where they bet on Kvaratskhelia or Kingsley Coman".
The final names on the list are two central defenders, Ronald Araujo and Kim min-Jae.
Were it April 1st or December 28th – the Spanish equivalent of April Fools' Day – it would be logical to assume that this is a spoof by El Pais. It is hard to fathom why the report exists as it seems so unlikely as to be absurd.
Even if the outrageous £500 million budget was real, it seems improbable that United would be prioritizing a left winger – where they have Marcus Rashford, Alejandro Garnacho and Jadon Sancho – over other positions, for example, right back, number 10 and goalkeeper – all positions in which there is little quality cover.
It also seems unlikely that two centre backs are needed when the present squad has world class options in Lisandro Martinez and Raphael Varane and good backups such as Victor Lindelof and Luke Shaw.
There is also the small matter of sticking within Financial Fair Play rules, which United would struggle to do with a £500 million spend.
All that being said, it is nice to dream and the idea of having that Boehly-esque kind of budget available to Erik ten Hag will have United fans licking their lips in anticipation of the coming season.
---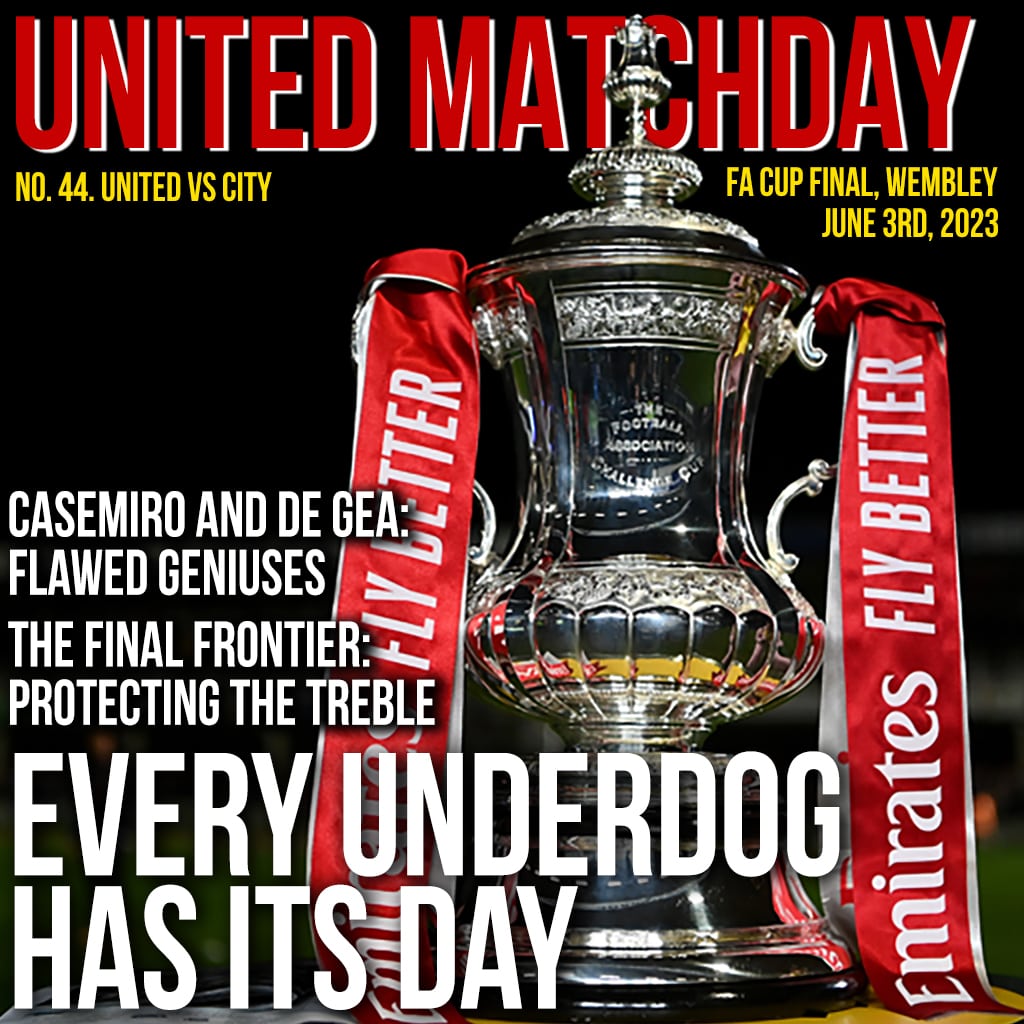 Imagine an FA Cup Final programme, but 100% online!
With just a couple of clicks you could be reading the FA Cup final special edition of United Matchday Magazine, right here on your device. All the latest news, meet the teams, tactical preview, opinion, debate, transfer news, quiz and much more! Get yours now for just £3/$3.75 and
be in the know about everything in red!