Manchester United legend Wayne Rooney has advised Erik ten Hag to adopt a different tactical approach to stun Manchester City at Wembley on June 3 when the two sides meet in the FA Cup final.
United will have the opportunity to stop Man City's treble charge. The Citizens have already been crowned Premier League champions and are in the Champions League and FA Cup finals.
Pep Guardiola's men have the chance to join United as the only other English club to win a treble. Sir Alex Feguson's all-conquering 1999 team is the only team in England to achieve this incredible feat.
There is, therefore, a lot on the line for the Red Devils and according to Rooney, Ten Hag should seek to surprise Man City.
Rooney wrote for The Times and said that the usual method of putting 11 men on the ball and hoping to catch City on the break might not work – this will only allow City to focus on breaking down the low block while not being primarily concerned about being hurt offensively.
Rooney wrote, "My strategy would be to go the other way and ask City to do something different. I'd try something similar to a tactic José Mourinho sometimes deployed in his first spell at Chelsea, where he would get the likes of Joe Cole, Arjen Robben and Damien Duff to take up 'half' positions where they didn't come all the way back and defend when Chelsea were out of possession but instead cheat a bit and wait higher up the pitch in areas from which they could counterattack as soon as Chelsea won the ball back.
"Ten Hag could use Rashford and Martial to hang higher up the pitch and disrupt City's shape. We always found it difficult to play against. When you were attacking, you were thinking: Where's Robben? Where's Cole? Who's staying back? What's the communication like to make sure we're dealing with those players?
"United could do similar using Marcus Rashford and Anthony Martial: defend with eight players and have those two waiting in counterattack positions. That would ask City different questions: should John Stones still come into the midfield or would it leave that side of the pitch open for Rashford to run into? Should Kyle Walker go high or would this open up space?"
As per Rooney, the United boss should line up in a 4-4-2 formation. Martial and Rashford should lead the line with a midfield quartet of Casemiro, Bruno Fernandes, Christian Eriksen, or either of Fred and Scott McTominay behind the two attackers.
The goal of this is to keep the distances between the eight defenders small and compact.
The United legend added, "Playing my way carries risks but I feel you have to risk it against City and ask questions that force them to do something different. Gamble and they may punish you but if you just sit back you're going to get punished by them anyway — so why not take the initiative and try something."
Rooney pointed out that the Red Devils have to keep a close eye on Erling Haaland. Rooney reiterated that the defenders must stay tight to the Norwegian and not afford him space in the penalty area. To stop Haaland, United will need focus, awareness, and concentration.
Rooney gave his verdict on United's season. He said that as it stands, Ten Hag has masterminded a brilliant campaign and most supporters will be satisfied with the work the Dutchman has done.
The former striker, however, noted that if City win the FA Cup, United's season will end on a low despite the milestones that have been made this term.


---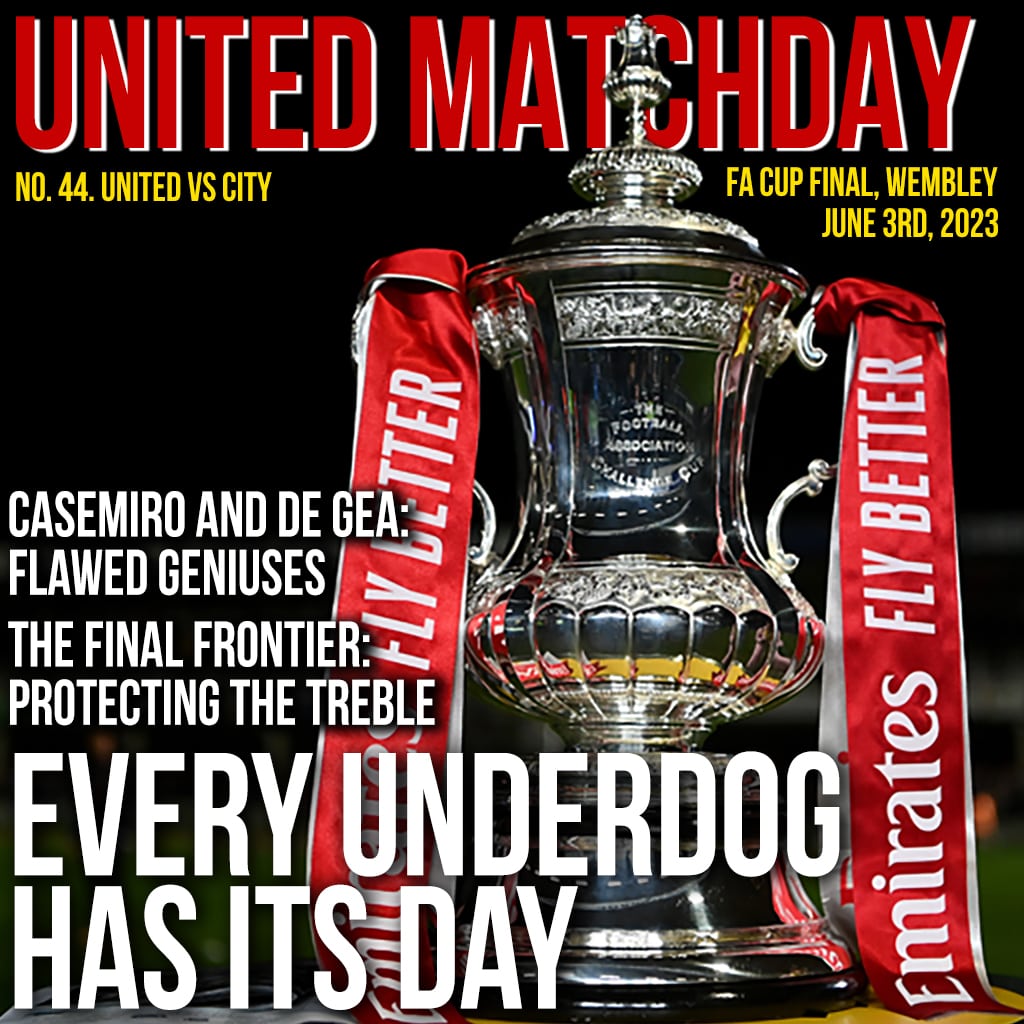 Imagine an FA Cup Final programme, but 100% online!
With just a couple of clicks you could be reading the FA Cup final special edition of United Matchday Magazine, right here on your device. All the latest news, meet the teams, tactical preview, opinion, debate, transfer news, quiz and much more! Get yours now for just £3/$3.75 and
be in the know about everything in red!