The curtain has closed on Erik ten Hag's first season as Manchester United manager, with a 2-1 win at Old Trafford against Fulham to wrap up a third-place finish.
A look through past seasons reveals just how successful the former Ajax boss' inaugural campaign has been, with Ten Hag achieving some impressive milestones.
With the exception of second-season specialist Jose Mourinho, no manager since Sir Alex Ferguson had accrued 75 points over the course of a Premier League campaign. Ole Gunnar Solskjaer came close in his second term, hitting 74 point during the Covid-19 outbreak.
As for Mourinho, he not only achieved a points haul of 81, he also oversaw 25 league wins, with Ten Hag's team two short of that milestone.
But as alluded to previously, the Portuguese manager is well known for peaking in his second season, having achieved his highest league finish in said season at every club he has managed with the exception of Tottenham Hotspur, who sacked him days before the Carabao Cup final.
A drop-off after Mourinho's 2nd-place finish could be seen from a mile off, but for Ten Hag it would appear that United are on the rise.
Indeed, he is only the second manager in Manchester United's history to achieve a points total of more than 70 on his first attempt. Ron Atkinson managed to do so in the 1980/1981 season, and it is well worth pointing out that the old English First Division was a 42-match campaign.
The Dutchman oversaw a second-placed finish in his first term at AFC Ajax, before securing four Eredivisie wins on the bounce in Amsterdam. Having joined Ajax halfway through the campaign, Ten Hag took his team from 2.38 points per game to 2.53, and then 2.59 – a show of constant improvement.
His time at FC Utrecht also saw steady improvement, with his initial fifth-place finish built upon to achieve fourth the following year. While a small jump in terms of final position, the second campaign saw a marked improvement in terms of points, going from 53 to 62.
An additional nine points this term would have seen Man United very much in the conversation for a genuine title challenge based on the season's Premier League table. United will be hoping that Ten Hag can repeat his habit for such improvement in England as they look to build upon the Dutchman's early successes.
In the midst of all of this, the 53-year-old has already won the Carabao Cup, securing his first trophy within eight months of landing the job, and now turns his attention to the FA Cup final.
Man United will expect a difficult encounter against Pep Guardiola's Man City, but confidence in Erik ten Hag – both in the short-term and the long-term – is high around Old Trafford. The chance of the manager living up to his ominous warning to United's rivals looks closer to becoming a reality than ever before: "An era can end."
---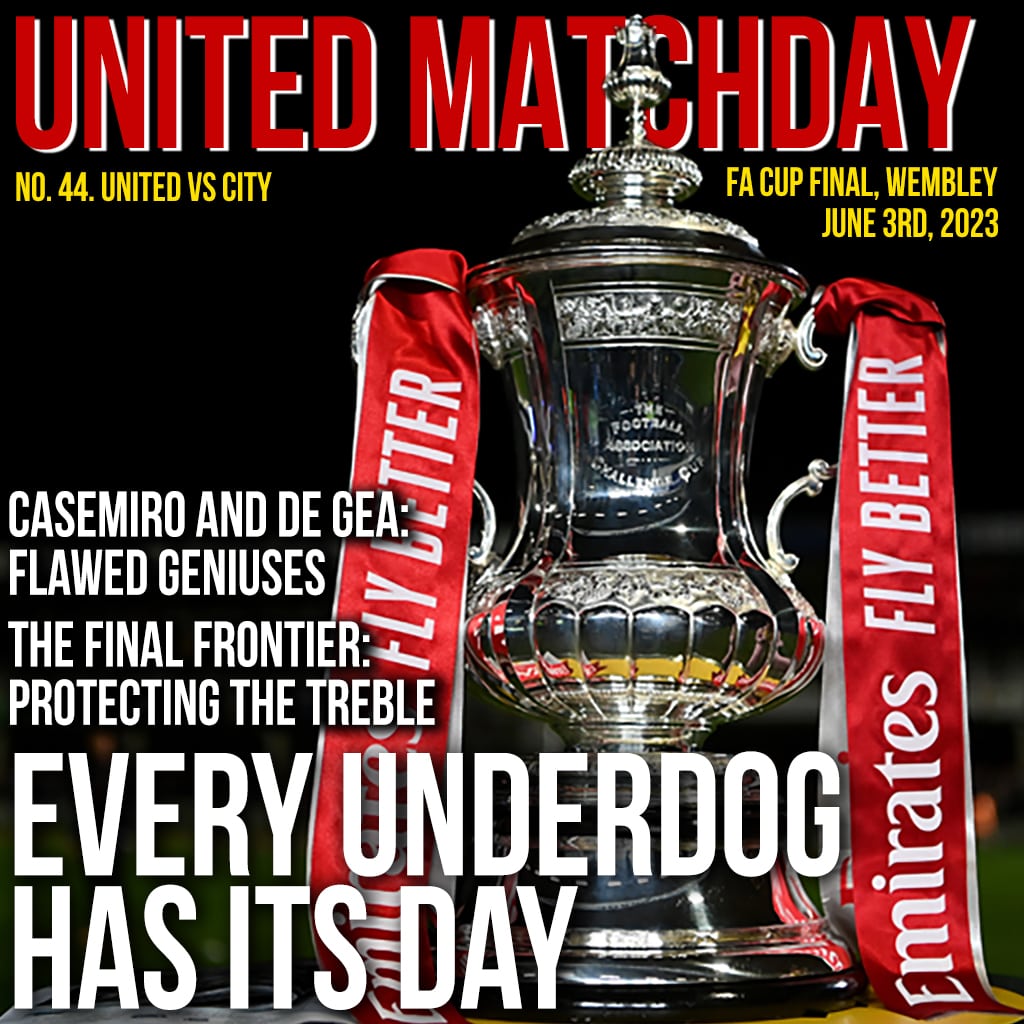 Imagine an FA Cup Final programme, but 100% online!
With just a couple of clicks you could be reading the FA Cup final special edition of United Matchday Magazine, right here on your device. All the latest news, meet the teams, tactical preview, opinion, debate, transfer news, quiz and much more! Get yours now for just £3/$3.75 and
be in the know about everything in red!