Manchester United have plenty of work to do this summer, with Erik ten Hag looking to build upon his successful first term at Old Trafford with additions to the squad. With a limited budget and an ongoing takeover saga, the Dutchman may need to rely on picking up a bargain or two, with the sides relegated from the Premier League offering up some interesting opportunities.
Previously, The Peoples Person took a look at a couple of players in Leicester City's squad who could potentially add something to United. Here, the focus is on Southampton, and one man in particular.
It is clear that James Ward-Prowse is the best player in Southampton's squad by quite some distance, with the Englishman having had huge influence on The Saints since making his way into the first team over ten years ago.
He has earned eleven caps for the Three Lions while playing for a usually unfancied side and has been a mainstay in the Premier League for a number of years. At 28 years of age, such a player should not be dropping down into the Championship. There is even an argument to be made for bringing him to Old Trafford.
The Obvious
Man United have completed their Premier League season having scored no goals from direct free kicks and are one of just two top flight sides to do so in 2022/2023. Ward-Prowse, conversely, has scored three himself. From indirect free kicks, the Red Devils scored three to Southampton's eight. United's corners have improved this season, bringing in seven goals, but again, the team holding up the table has twice as many.
Effectively, Ward-Prowse's delivery could potentially be worth around an additional 15 goals to Ten Hag, which would immediately flip United from among the lowest scorers in the top half of the table (with 58) to the fourth most proficient in the division with 73. That is the sort of difference that would be all but guaranteed to translate into more points on the board.
Of course, when considering indirect free kicks and corners, there is a big element of set up and preparation beyond Ward-Prowse to factor in. Knock-downs from the likes of Armel Bella-Kotchap and Che Adams played a huge part in creating goalscoring opportunities after the initial ball in. One would hope, however, that the coaches at Carrington would be able to make use of the dead-ball specialist's delivery just as well as his current club.
The Problem
The real question is over what Man United would stand to lose by having James Ward-Prowse in the starting eleven over a player more effective in open play, and the most obvious position in which the Saints' man would fit into the current set-up would be alongside Casemiro, at the expense of Christian Eriksen.
Ward-Prowse does offer an astonishing level of durability which the Danish playmaker lacks, having started 150 of Southampton's last 152 Premier League matches and rarely being substituted. That he has been so consistently available given his role as a highly energetic player, busy in disrupting opposition moves and making interceptions, is all the more impressive.
But there is no doubting that Eriksen is by far the better player in open play, with his progressive passing having been key to Ten Hag's maiden season in English football. In terms of creativity and taking set pieces out of the equation, Eriksen makes 2.48 shot creating actions per 90 minutes compared to Ward-Prowse's 1.66 (Fbref), while still maintaining better completion rates and getting on the ball more frequently. It is simply no contest, and downgrading United's possession play further in order to enjoy a boost in set piece efficiency is unlikely to be the favoured direction of the manager or the fanbase.
Were Ward-Prowse to sign for Man United – or any club of a similar standing, for that matter – he would almost certainly do so as a squad player. Naturally, that would limit the total value of his dead-ball threat over the course of a season, given he would be taking fewer set pieces to begin with. Were the Southampton man only to be brought into the squad to cover Eriksen, there is no way in which that could be deemed valuable.
The Potential
But Ward-Prowse has shown versatility throughout his career, having played under various managers in various systems. While he has predominantly been a central midfielder in the last couple of years, he has also featured on the wing, where he can press opposition fullbacks, similarly to how Bruno Fernandes has been asked to do under Ten Hag, and at right back, where he has more space to whip in crosses.
This season, Mikel Arteta, Pep Guardiola and Jurgen Klopp, as well as a handful of other top coaches in Europe, have blurred the lines between fullbacks and midfielders in a substantial way. Trent Alexander-Arnold, in particular, could provide a roadmap for the next stage of Ward-Prowse's evolution as a player.
Having initially struggled this season, Liverpool flicked a switch in its final months to go on a run that had some Man United fearing their spot in the top four. Key to that run was Klopp's use of Alexander-Arnold as a false fullback, inverting into midfield and forming a double pivot with Fabinho ahead of a temporary three-man backline. In this respect, there is little difference between this and Arteta's use of Zinchenko from the leftback position at Arsenal.
Where Klopp's approach diverged was in taking advantage of his right back's quality distribution. The infield movement of Alexander-Arnold often left the player in so much space that he may as well have been taking a free kick. There are some similarities between this approach and Ten Hag's use of Daley Blind in his last Ajax side, with the former United player regularly found in line with holding midfielder Edson Alvarez and having full view of the opposition third.
If Ward-Prowse were able to adapt to such a role as he enters his peak years, he would be a far more valuable player to Manchester United. The Red Devils have been linked with several right backs going into the summer transfer window, as well as a new midfielder or two. A player who could cover both roles while also offering Ten Hag a tactical tool that does not yet exist in his squad would be a boost, before even getting into the Southampton man's set-piece threat.
It is not unheard of for players to adapt their game to make the most of their changing talents as they develop under different coaches and, even at 28 years of age, Ward-Prowse may just need a certain Dutchman to show him a new way to play. But unless there is an eagerness to take to such an approach on both sides, there would be little point in bringing the set-piece Saint to Old Trafford.
---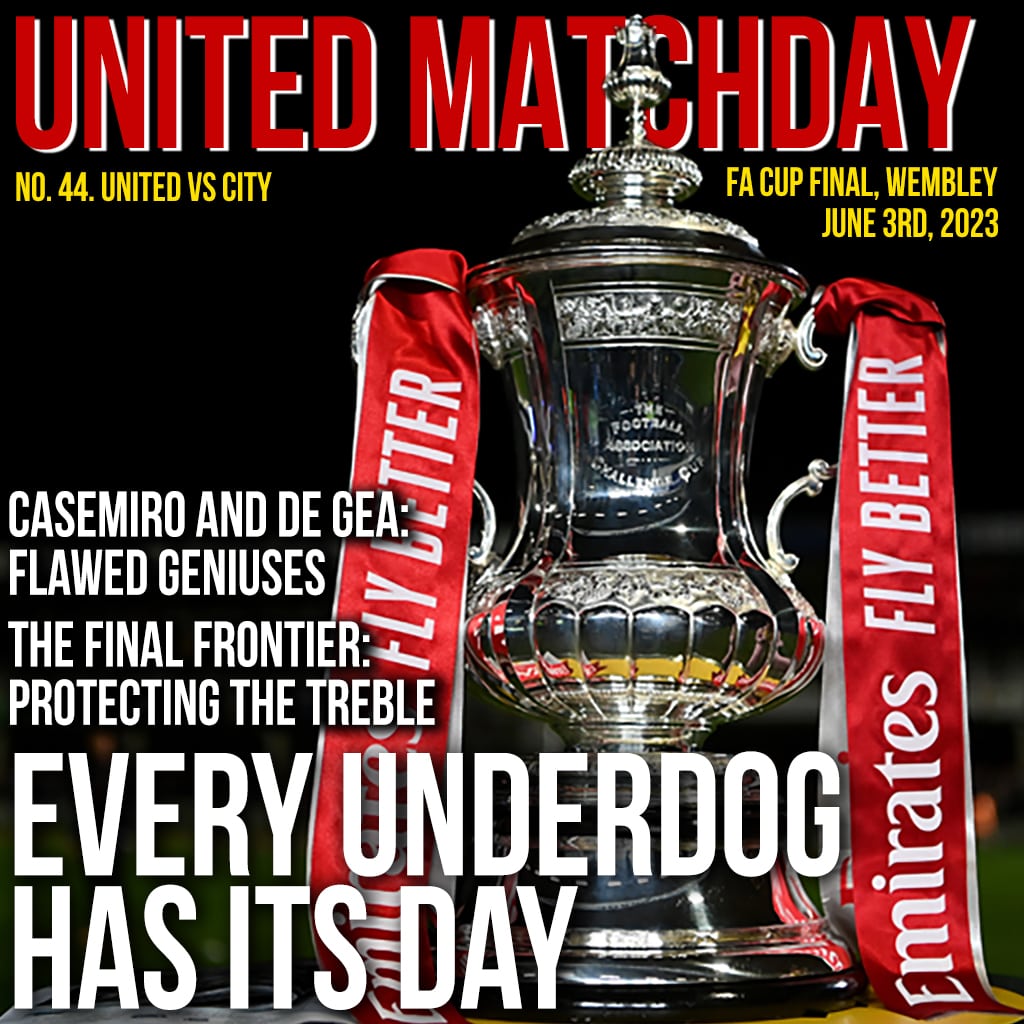 Imagine an FA Cup Final programme, but 100% online!
With just a couple of clicks you could be reading the FA Cup final special edition of United Matchday Magazine, right here on your device. All the latest news, meet the teams, tactical preview, opinion, debate, transfer news, quiz and much more! Get yours now for just £3/$3.75 and
be in the know about everything in red!