Manchester United failed to win their second trophy of the season as they succumbed to a 1-2 defeat at the hands of Manchester City in the FA Cup final on Saturday.
More importantly, the Red Devils failed to stop the City juggernaut and now they stand one step away from equalling United's Treble achievement.
Erik ten Hag must have told his players to be at the top of their game right from the start and unfortunately, it could not have been a worse start.
Ilkay Gundogan scored within a minute as his sweetly-struck volley handed the Cityzens the lead. David de Gea just stood there and watched instead of trying to stop it.
DDG should not get a new deal
The 20-time English league champions did fight back admirably and equalised through a well-taken penalty via Bruno Fernandes after Jack Grealish was adjudged to have hand-balled inside the box.
In the second-half, it was once again Gundogan who scored from yet another volley, a weak effort which should have been stopped by United's No 1.
But the kind of form the Spaniard has shown throughout the campaign, it was not surprising to see the back creep into the net.
United tried hard and hit the crossbar deep into added-time but could not force an equaliser and Ten Hag's maiden campaign ended on a disappointing note.
But the Dutchman now finally has the chance to be ruthless when it comes to tweaking his side going forward after seeing all his players for one full season.
One player who needs to be let go is the goalkeeper. He has served the club with distinction and carried the club on his own at times but he is so badly past his prime, that it is sad at this point.
While his kicking was horrendous as usual and he kept staying on his line despite having the chance to sweep, what has let his teammates down the most is his poor shot-stopping, the only thing he is supposed to be good at.
Ten Hag simply cannot afford to hand him a new deal and instead should bring in an alternative, even if it means not bringing in a defender or midfielder.
Sancho's poor run continues
The manager could have selected Alejandro Garnacho from the start as he showed fight and spirit when he came on and went close with a curler.
Jadon Sancho has been a spectator for most of the season and put in yet another poor display at Wembley. He was weak during 50-50s and timid while going forward, problems that have been ongoing throughout the campaign.
Maybe a loan would help but Ten Hag needs to be ruthless.
Apart from Sancho, Eriksen was also poor as he hardly got time to pass and was left chasing shadows. The Dane can be a great option against teams sitting back but against teams who love to keep hold of the ball, he simply does not work.
Marcus Rashford was also a shadow of his usual self and if their top scorer is not on song, it really becomes an uphill task.
---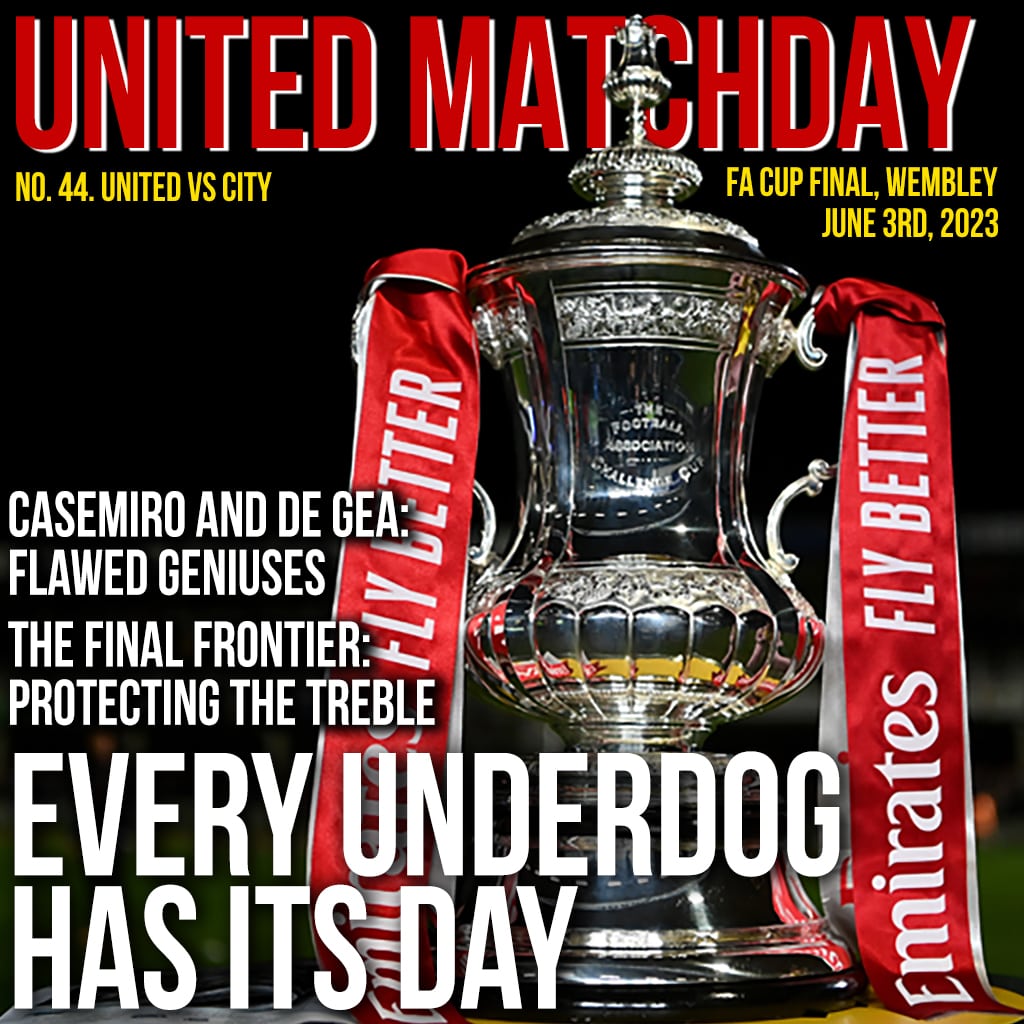 Imagine an FA Cup Final programme, but 100% online!
With just a couple of clicks you could be reading the FA Cup final special edition of United Matchday Magazine, right here on your device. All the latest news, meet the teams, tactical preview, opinion, debate, transfer news, quiz and much more! Get yours now for just £3/$3.75 and
be in the know about everything in red!