Manchester United have qualified for the Champions League via their third place finish in the Premier League and have also ended their trophy drought by claiming the Carabao Cup earlier this year.
Erik ten Hag, during his pre-match press conference ahead of the FA Cup final, said that the Red Devils have the chance to turn this good season into a great one with a triumph on Saturday.
While the chance to lift a second trophy is a source of great excitement for the fans, they are much more worried about the prospect of their noisy neighbours equalling their Treble-winning feat.
Pep is aware of United's increased motivation
While the manager and most players have kept on insisting that their focus is fully on winning the match, Manchester City boss Pep Guardiola understands why Saturday's game is such a big occasion for the Reds.
"I didn't speak with Bruno Fernandes and company to know exactly the reason why it means more to them – the emotional reason why they are going to play the final," the City manager said.
"But I could understand it, I could understand… it [the Treble] belongs to them. That's normal – sport is like that. Records will be broken. [United fans think:] 'That belongs to us. We don't want anyone else to do it'.
"So it's normal, that feeling. It's completely understandable. But it's a football game – who will be better will win," he was quoted as saying by The Telegraph.
And the Spaniard also added that despite the prospect of winning the Treble is looming large, the team have not even thought about the Champions League final against Inter Milan.
Full focus on United
City are aware that United will be up for the encounter and they will need to focus fully and be wary of complacency and that is something Guardiola has told his players.
"No, absolutely not – we didn't speak once about Inter in these days," he said. "United deserve full attention and commitment."
Ten Hag and his players will need to be right on the money from the word go to stop the City juggernaut and fans will be hoping to see their team give more than 100 per cent.
The Dutchman could make a few changes to his lineup knowing their opponents will have more of the ball with the attacking onus once again falling on Marcus Rashford.
---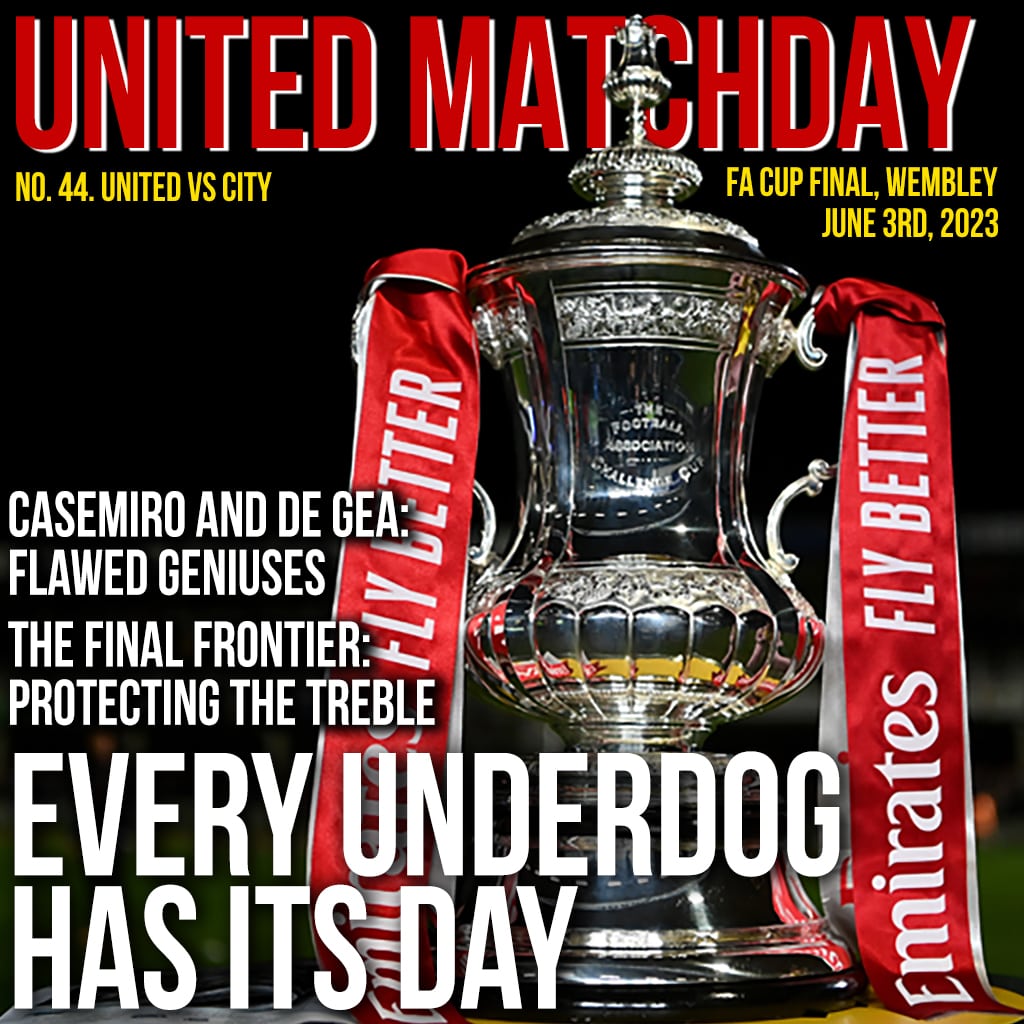 Imagine an FA Cup Final programme, but 100% online!
With just a couple of clicks you could be reading the FA Cup final special edition of United Matchday Magazine, right here on your device. All the latest news, meet the teams, tactical preview, opinion, debate, transfer news, quiz and much more! Get yours now for just £3/$3.75 and
be in the know about everything in red!