Manchester United's season ended with defeat in the FA Cup final against Manchester City, leaving Erik ten Hag to focus on the next phase of his rebuild.
Although United fought hard in the final, lack of real quality at both ends of the pitch gave City the edge in the showpiece occasion.
David de Gea endured another difficult afternoon at Wembley and has been largely blamed for the defeat.
If he wasn't completely at fault for Ilkay Gundogan's record-breaking early opener, he will certainly be disappointed in letting the German's killer second squirm past his reach and end up in the corner of his net.
De Gea also gave the ball away on multiple occasions as United tried to get a foothold in the game, giving up possession far to readily to a City side that will make you pay.
The Spaniard's performance was symptomatic of his season, with United's number one failing to adapt to Ten Hag's style of play.
Additionally, the stats do nothing to help De Gea, who ranks alarmingly low in most of the key metrics used to measure a 'keepers performance.
Given Ten Hag's modus operandi of taking control of matches and building from the back, United's stopper's 68.33% passing accuracy, ranking him 19th out of 20 Premier League 'keepers will no doubt worry the boss.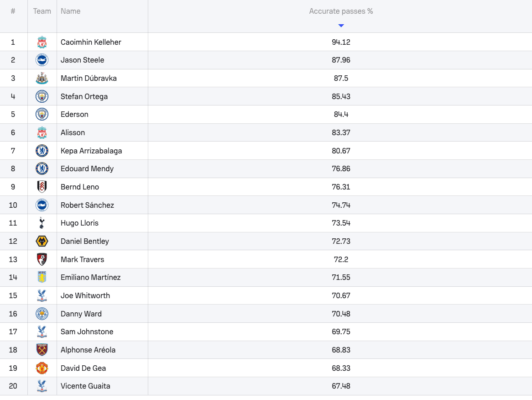 De Gea's soft centre when claiming crosses is also something that frustrates United fans and is underlined by him failing to collect 3 crosses he has come for over the course of the season, which doesn't sound a lot but is only beaten by Wolves' Jose Sa, with 4.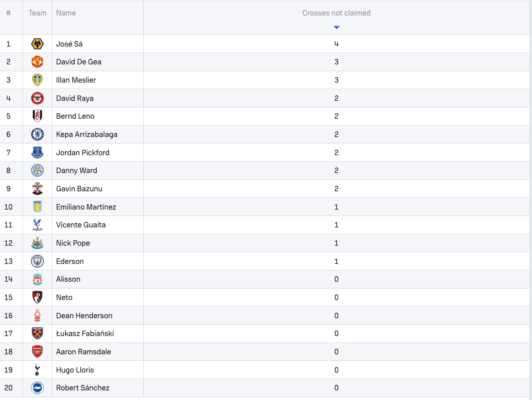 Additionally, the Spaniard's reluctance to leave his line leaves him 17th on the list for 'successful run outs' (11), the sign of a proactive goalkeeper. Nick Pope sits top of the charts with 37.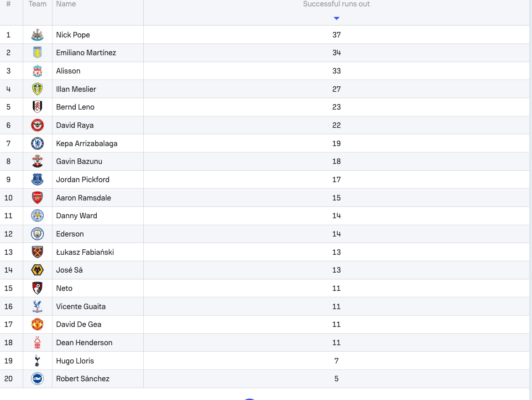 One attribute that has been used to combat arguments of De Gea's fading powers throughout the season is his ability to shot-stop.
However, his powder-puff display in the Cup final and sitting 4th worst in the rankings for goals conceded outside the box (8) will raise more questions than answers on the Spaniard's apparent biggest strength.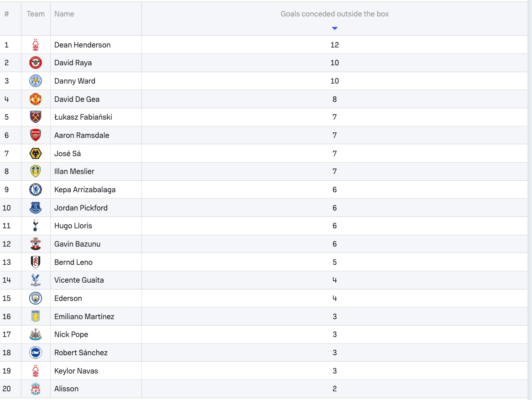 De Gea does sit mid-table in overall saves made this season (101) but even that is over 50 less than table-topping David Raya of Brentford.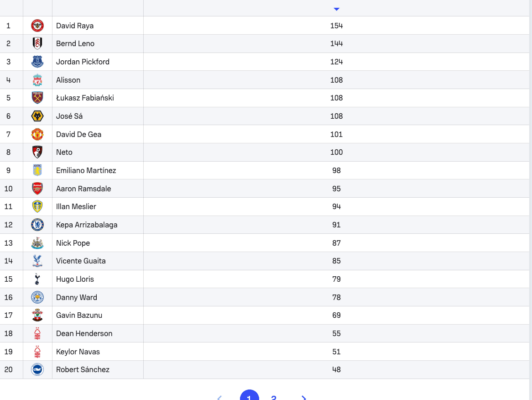 The United man will point to his 17 clean sheets and Golden Glove as reason for praise but if we're honest, the shut outs were as much down to the impressive partnership of Rapha Varane and Lisandro Martinez than De Gea's form.
What Ten Hag does with his 'keeper may define his era at Old Trafford and with a contract extension imminent, it looks as though the 32-year-old looks set to stay in Manchester.
Whether De Gea stays at the club or not, what is clear is that his number one shirt must be up for grabs now and Ten Hag would be negligent to address the issue of a goalkeeper that is costing him points and prizes.