Manchester United are looking to strengthen their squad further before the summer transfer window slams shut at the end off the month, and Benjamin Pavard has been mooted as Erik ten Hag's top target to replace West Ham-bound Harry Maguire.
Despite reports that personal terms are holding up the England international's move, it would be something of a surprise to see him remain at Old Trafford, given his sharp slide down the pecking order under the Dutchman.
His lack of suitability to playing in a high line, or operating in the kind of fast-paced possession side Ten Hag is looking to build mean that he will likely be forced out. As for Pavard, he does seem far more suited to a team under the United boss' vision.
That is largely because of what he does on the ball. While he and his teammates performed shockingly badly yesterday, last season offers a window into his usual level of performance. He completed an average of 66.9 passes per game with an accuracy of 90% of the course of Bayern's Bundesliga campaign. What is also notable is that – whether you compare him to central defenders or fullbacks – he comes out in the top 1% of players in both positions for progressive passes made per 90 minutes, with 7.62.
Contrast that with Harry Maguire's 21/22 season (the last in which he started more than twenty league matches), where the Englishman managed 45 passes per game with an 86% accuracy, and Pavard comes out on top. Some of this will be due to stylistic differences – Bayern are a far more established possession side – but the eye test shows that generally, Pavard is far better at zipping accurate passes across the ground and participating in the build up phase. He also does not dawdle aimlessly on the ball waiting for the opposition to mark every passing option. That is likely a factor in his low count for progressive passes per match, which stands at 3.01 per 90.
At his peak, Maguire was a capable ball-winner, often throwing himself into challenges with a good level of success. That version of Maguire no longer exists at Old Trafford, and the former captain wins just 1.1 tackles per game, and the same number of interceptions. Pavard is a far more proactive defender going off these numbers, winning 2.3 tackles per 90 minutes as well a 1.5 interceptions.
At this point, it is important to note that last season the Frenchman played roughly half his matches as a right back and half as a central defender. There is a good argument to be made that Pavard had more opportunities to win challenges because wingers are more likely to try to dribble past fullbacks than forwards are a centre back. As this is a fair point, we can take a look at Smarterscout data to only focus on the minutes each player played as a right-sided central defender last season.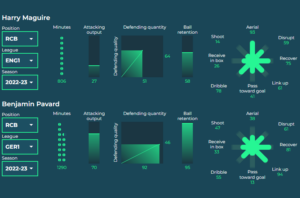 As we can see, Pavard still comes out well on top for the amount of defending he gets through and his success in doing so. Note also, his world-class level of ball retention capabilities – this will be invaluable in helping Man United to play out of defence. A triumvirate of Andre Onana, Lisandro Martinez, and Benjamin Pavard would be excellent at coping with a high press, in a way that any backline featuring Maguire just isn't.
Where Maguire would expect to come out on top – and decisively so – is in aerial challenges. The Smarterscout Style ratings seen above already point to the regularity with which the Englishman engages in such duels compared to Pavard, but over the last twelve months, Maguire's success rate has dropped sharply to 54.4%. That is in part because of just how often he goes into battle when the ball is off the ground, however, and the fact that the Bayern defender currently has a far better success rate (64.1%) comes with heavy caveats – he engages in far fewer, and many of his challenges are against Bundesliga wingers rather than Premier League centre forwards.
This means that, as discussed regarding Jean-Clair Todibo elsewhere, swapping Maguire out for Pavard would rob Ten Hag of what was last season's go-to answer to aerial bombardment late in a game. This was not an option Man United needed to resort to all that often, but there were key matches where Maguire was brought on to shut out a team in such situations – the Carabao Cup final against Newcastle United being the most notable. Ten Hag would need to find a different solution to these situations and it would probably have to be a rather creative one, given that United's cohort of centre backs would not feature an aerially dominant defender.
Of course, a high line and a proactive goalkeeper lessen the need for one, and that could well be a big part of Erik ten Hag's thinking. The Dutchman was happy to field a defensive pairing of Jurrien Timber and Lisandro Martinez in Champions League matches while at Ajax, even against the likes of Erling Haaland. If the team works together the stop crosses at source, the need for a Maguire-type player is minimal.
All in all, Benjamin Pavard is a far better fit for the kind of football Manchester United want to play. That is hardly surprising, given Harry Maguire's dramatic fall from grace over the last few years, but even compared to some of the best defenders in the game, the Frenchman offers an elite level of contribution to his team's build up play.
There are plenty of other benefits to signing Pavard that we have not even touched on – his versatility, his winning mentality, and his top-level experience among them. But even if the World Cup winner did not come with all of those fantastic qualities, he would still be an outstanding addition to the Manchester United squad.
(Stats taken from FBref and SofaScore)