Manchester United have today officially announced the signing of Brazilian striker, Geyse da Silva Ferreira.
The 25 year old had been spotted at Old Trafford at the start of the week and our sources said, as reported on Wednesday, that the deal was done 48 hours ago.
Now, the club themselves have announced on their official website that the forward is officially a United player.
The United family just got bigger ❤️

— Manchester United Women (@ManUtdWomen) August 18, 2023
The Peoples Person were present at the photo shoot (the author, kneeling) to welcome Geyse to the club.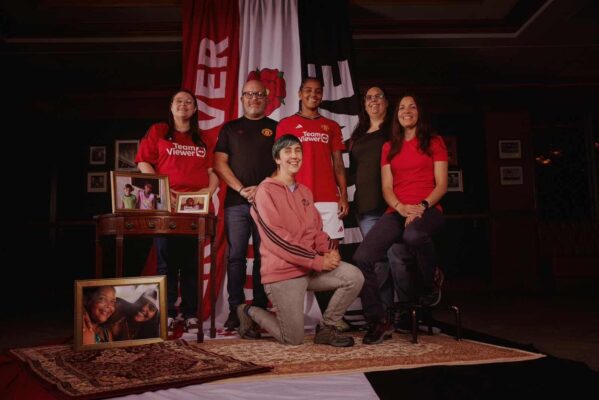 Courtesy: Manchester United
Geyse said:
"I am very happy to be here … Signing for United has been a very special day for me and my family. I am very grateful for this opportunity and thank everyone for making it happen."
United Women's manager, Marc Skinner said: "Geyse is a proven winner on the biggest stages… We are delighted to welcome Geyse into our Manchester United family and cannot wait to see her excite our wonderful fans."
And Polly Bancroft, Head of Women's football, said: "Her winning pedigree is unquestionable, and we are excited to see her flourish here at Manchester United."
The Brazilian international joins the Reds from Barcelona after just one season, which saw her win the Champions League and Liga F trophy.
Geyse made her debut for the senior Brazil women's national football team in September 2017 as a substitute in a 4–0 win over Chile.
Most recently, she featured for her country in the Women's World Cup out in Australia.
At club level she began her career at Corinthians, playing in 27 matches and scoring nine goals.
Later she moved to Madrid CFF for one season before leaving for the newly formed Benfica.
She scored 16 goals in her first four games for Benfica, who had entered the second division in Portugal and by the end of the season, Geyse had scored 51 goals in 29 matches for the club.
In her second stint at Madrid CFF, Geyse scored almost 50% of Madrid CFF's goals, helping her side to stay in the top flight. She then made the switch to Barcelona
Fans went into a frenzy when it became apparent that Geyse was making the move to Manchester.
The departure of Alessia Russo was a cause for concern amongst many but the signing of the vastly experienced Geyse has restored fans faith!
Bring on the Champions League!