There are 13 days until Manchester United's next game against Brighton at Old Trafford.
13 days to make the necessary adjustments to remedy a poor start. 13 days to implement tactical changes which will improve the team's performance. 13 days to regain and rally the spirit which was carefully cultivated last season.
13 days to fix United's season essentially.
Over the next 13 days, The Peoples Person will be looking at 13 areas United can look to improve upon before their next Premier League fixture. An article a day until Erik ten Hag's issues have drifted away.
Previous pieces have looked at the improvements current stars can produce; today's focuses on the impact of future one may hold – Kobbie Mainoo.
The Academy Graduate
Born just outside of Manchester, in Stockport, Mainoo joined the ranks at Old Trafford at the tender age of nine. His talent was quickly recognised within the academy and the youngster was earmarked as one for the future.
Mainoo made his debut for the U-18 team by fifteen. He then played for the U-23s a year later, at sixteen.
There was a growing consensus amongst United's academy staff that the midfielder possessed a maturity to his game which belied his age. He's been a crucial player, within both age groups over the past three seasons, ever since.
Mainoo won the FA Youth Cup in the 2021/22 season with the U-18 team.
Last year he received the prestigious Jimmy Murphy Young Player of the Year award – an accolade previously won by the likes of Paul Pogba and Paul Scholes. Talented midfield company indeed.
Last season Mainoo made his senior competitive debut for United.
He was selected to start against Charlton Athletic in the Carabao Cup quarter-final; a match United won three-nil in comfortable fashion.
His Premier League debut came a month later as a substitute against Leicester City – another three-nil win. Both of these matches came before Mainoo had even turned 18.
It's a similar story at international level.
While Mainoo is eligible to represent Ghana, the midfielder appears to be settled on England as his national team. He's represented the Three Lions at the U-17, U-18 and U-19 level, with an U-21 call-up feeling inevitable.
Mainoo's profile as a midfielder is not a common one amongst English players. The senior team is crying out for the type of midfield conduit he looks capable of becoming.
The 18-year old is unusually calm and assured in possession for a midfielder so young. He possesses an elegancy and proficiency with the ball reminiscent of Pogba, but, crucially, is comfortable operating deeper in midfield than the Frenchman.
Mainoo combines this technical ability with superb physical attributes. He is strong in and out of possession and has a good engine. Though not outstandingly quick, he's capable of the burst of acceleration required to break through the lines of midfield.
In short, he possesses the physical, mental and technical requirements of a modern midfielder.
Ten Hag's Trust
It's this combination of profile and maturity which has seen Ten Hag focus on Mainoo.
If the first-team minutes afforded to Mainoo last season weren't enough to convince fans of the Dutch manager's opinion of Mainoo, his use of the midfielder during this summer's pre-season would have left them in no doubt.
The 18-year old started every one of United's opening four pre-season games.
Though the first two matches – against Leeds and Lyon – included other youngsters, the teams which started against Arsenal and Real Madrid were exclusively first-team affairs.
The only other player below the age of 23 in either starting eleven was Alejandro Garnacho.
Ten Hag has previously spoken of his desire to create a more direct line of progression between the academy and the first-team.
Expectations on United's youth structure are said to have "gone up another level" since the Dutchman's appointment.
Ten Hag even referenced the emergence of Garnacho last season as the template for United's youngsters to aspire to. In a press-conference during pre-season he specifically mentioned Mainoo as one who was "on his way" to the first-team, following in the Argentine's foot steps.
The match against Real Madrid would prove pivotal for Mainoo's prospects in two distinct ways.
Firstly, it proved definitively the faith Ten Hag holds in him.
Madrid's midfield is a unit boasting outrageous talent and high-level experience in equal measure; as tough an opponent as you could envision for an 18-year old with three games of senior football.
Yet Mainoo was trusted to start alongside Casemiro and, crucially, ahead of Christian Eriksen. 
From the players available at this point of the tour, this was ten of United's first-team eleven. And Mainoo.
Perhaps the midfielder's status within Ten Hag's squad needed to be reassessed. He was no longer the youngster knocking on the door of the senior squad; instead, he was a fully-fledged member of the first-team.
Secondly, the cruel hand of fate intervened to halt this rapid ascension in its tracks.
Injury Time
Mainoo was forced off after three minutes against Madrid following an accidental collision with Rodrygo.
It was a heartbreaking moment for a youngster who would have dreamed of playing for United against European giants in front of a packed-out stadium.
Mainoo was seen on crutches after the game with confirmation coming a few days later of a serious ankle injury. It would rule him out of the start of the season.
Ten Hag provided an update a month later on Mainoo's progress, revealing the midfielder would be fit in "not one month, but two." This gave a timeline for his return at some point in October.
Given how his team-mates would begin their Premier League campaign, the absence of a technically gifted, physically capable central-midfielder has proven a significant blow.
United's midfield has been porous in the opening portion of the new season.
Defeats away to Arsenal and Tottenham have accompanied two very shaky wins at Old Trafford over Wolves and Nottingham Forest. The Wolves game, in particular, could function as a textbook example for aspiring coaches on how not to set up a midfield unit.
United currently sit 11th in the league with a negative goal difference.
The Injured Son Returns
The centre of the pitch is likely Ten Hag's primary area of focus at present. Casemiro once described the midfield as the "heartbeat" of the team; at present, United's pulse is thready.
A deal for Sofyan Amrabat was finally agreed on the final day of the transfer window. The Moroccan has previously worked with Ten Hag, who referenced his ability to play either the number six or number eight role in midfield in a recent press conference.
Amrabat will undoubtedly offer some much-needed steel centrally, while retaining the technical ability on the ball Ten Hag values.
Expectations must be tempered, however, for a player who has not played at a higher level than Fiorentina.
The Italian club were also content for him to depart this summer and his availability was not a source of interest for any of Europe's top clubs, despite many of United's domestic rivals targeting a defensive midfielder in the transfer window.
Amrabat will also be joining Morocco for the African Cup of Nations in January, where he could miss up to seven club games if his country are successful in the tournament. This appears likely given their success in Qatar.
In short, Amrabat, at 27 years of age, can likely only offer so much. Particularly if he's not even in England for a portion of the season.
Instead, Ten Hag must have the bravery to continue his integration of Mainoo into the first-team, once the midfielder returns from injury.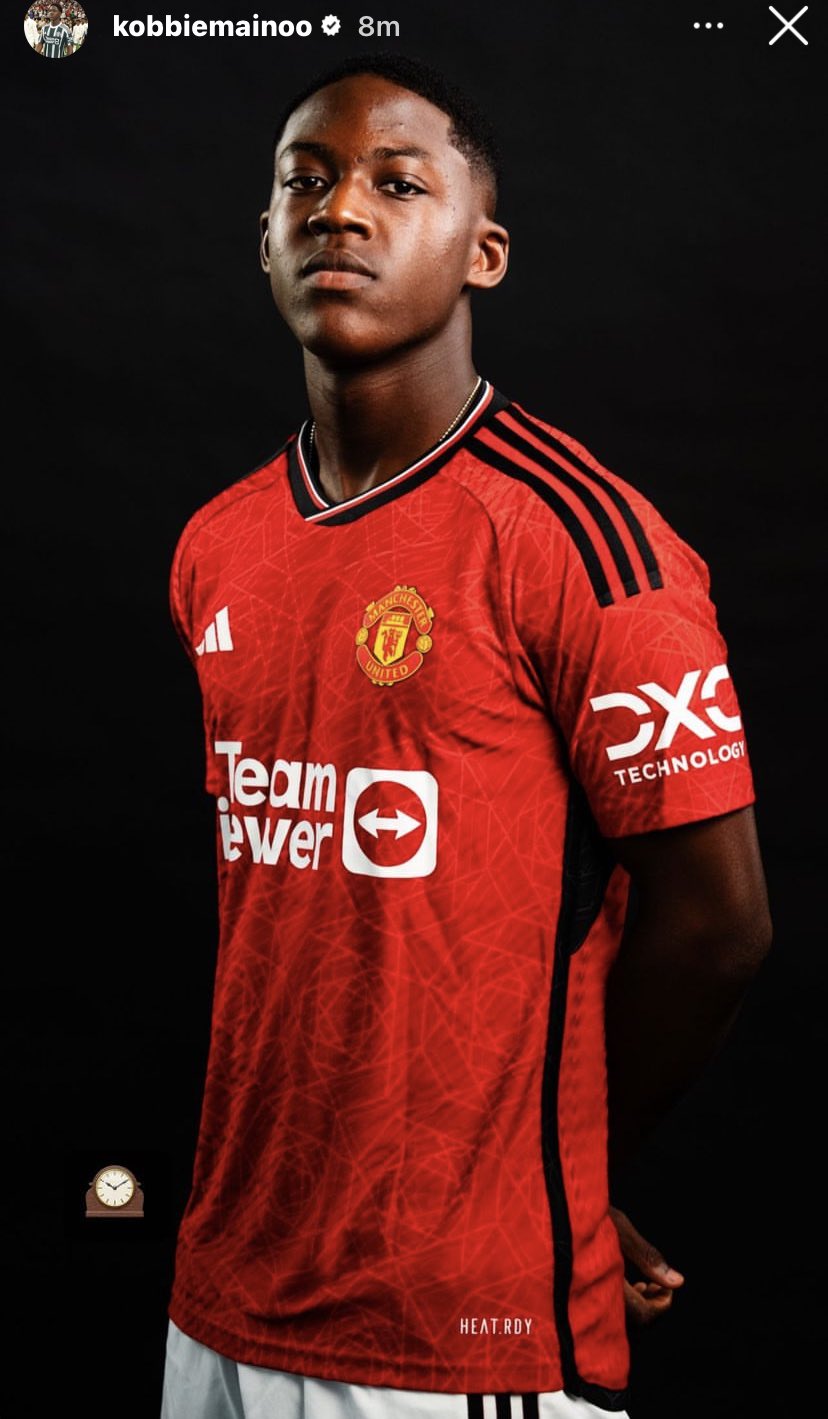 A recent Instagram post by Mainoo with a ticking clock emoji, indicating a return is nearing. 
Amrabat and Casemiro is a strong defensive pivot, but it lacks the inventiveness and creativity Mainoo provides on the ball.
Eriksen is the only midfielder in the squad who possesses a similar skillset, but his physical attributes have waned in recent years. And they were never particularly strong to begin with.
Mainoo possesses a potent combination of technique and physicality; talents United have been sorely lacking this season. He also offers a maturity on the ball beyond his years.
Mainoo is the future.
Yet when considering United's midfield unit at present, it appears the need for the future may have already arrived.
CONCLUSION – Encourage Mainoo to continue his meteoric rise, despite more experienced options elsewhere.