The initial news that clubs are lining up to sign Mason Greenwood from Manchester United after the club decided to let him go elsewhere seems to have been premature.
Yesterday it was reported that several clubs in Saudi Arabia were queueing up for Greenwood's signature, but according to The Telegraph, this is not the case.
"Mason Greenwood is set to be snubbed by clubs in Saudi Arabia over major concerns about how a move would be perceived;" reporter Matt Law claims.
"The Saudi Pro League is already under intense scrutiny over human rights issues in the country and, while not absolutely ruling out the prospect of a club showing an interest, sources believe officials will not want the added baggage that would follow Greenwood at this particular time."
The article quotes a senior figure from the country as saying "Given the scrutiny already on the country and the circumstance, it would be very difficult for clubs here to jump in and rescue this player."
In an article entitled "Too toxic for Saudi Arabia?", Law goes on to say that another club heavily linked with interest in the forward, Roma, are also distancing themselves.
Law cites Italian paper Il Tempo as saying that José Mourinho has "no interest in trying to sign Greenwood" and does "not want to be associated with him".
"Italian sources also believe that clubs with American owners or investors, such as AC Milan and Inter Milan, will turn their backs on Greenwood," Law says.
In terms of the Saudi angle, Law is clearly correct in one instance.
Steven Gerrard's Al Ettifaq was one of the clubs said to be keen, but Gerrard himself has taken to social media to dismiss the reports.
Gerrard posted a screenshot of a newspaper report claiming such on his Instagram story with the words "Fake News" sprawled across it.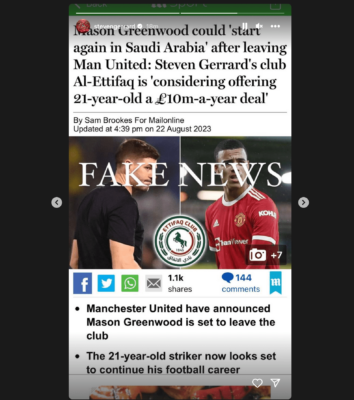 Where that leaves Greenwood and the powers that be at Old Trafford remains to be seen. Turkey seems like the most likely destination at the moment as Law indicates, but interest from that quarter is far from concrete thus far.